Carl Bernstein Compares Murdoch Hackings To Watergate, News Corp To 'Mafia Outfit'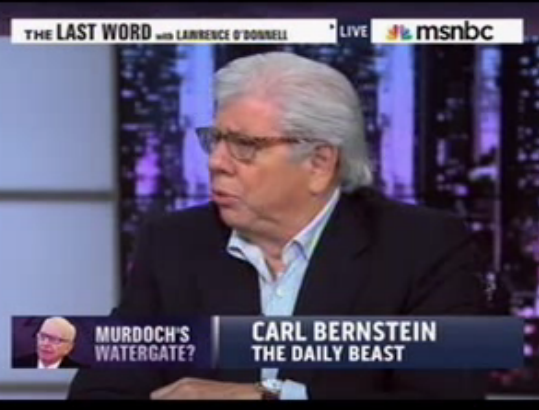 It's been quite the week or so for journalistic ethics given the end of News of the World and the continuing corruption scandal engulfing Rupert Murdoch's News Corp/News International enterprise. The Watergate references running fast and loose, Lawrence O'Donnell brought on an expert tonight to explain just how the two scandals compare– legendary former Washington Post reporter Carl Bernstein. In doing so, however, O'Donnell brought down some ethical judgment on himself as Bernstein, now a Newsweek writer, stood up for his magazine.
With just enough time for the shock of seeing the seemingly anachronistic chyron "Carl Bernstein: The Daily Beast" to subside, O'Donnell asked Bernstein to discuss the two scandals and how they compare, the topic of an upcoming Newsweek piece Bernstein penned. "This is a massive abuse of power, much like Nixon abused his power… journalism is not a license to abuse a free press." He went on to say the "Murdoch enterprise has acted like thugs, not like reporters, somewhat like a mafia outfit."
Despite the damage done to the organization, however, Bernstein argued he still had "huge power here through his readership," citing especially the New York Post, "which has been terribly influential in a horrible way." As hard as he went on the Post however, Bernstein did not tackle Fox News with so much ire, instead saying of the network, "good journalism is the best obtainable version of the truth, and that's not what Murdoch practices." He also made the point of saying that a three minute segment was far too short to have a substantive conversation, and invited himself on the program several times.
Bernstein did note that there was no fixed journalistic code to follow, and that "we're not choirboys," but "common sense and decency are to guide us." And speaking of that… Bernstein then turned to give a few words of wisdom to his host, in particular about his tearing apart of Newsweek for making Sarah Palin their cover girl. "It's one thing to argue about a piece, but, since we're talking about journalism, to just go after the whole magazine the way you did," Bernstein preached, "saying it was declining or whatever when the circulation is up, or whatever… we need to avoid this thing in our business. This is the kind of thing that Murdoch has made his bones on. Let's calm down this discussion." O'Donnell, for the most part, shrugged it off, joking that he had told his audience to "buy Newsweek" for Bernstein's article. Bernstein then, in classic "shameless elder statesmen who knows he is a living legend" form, told O'Donnell they needed to have another segment on the topic in the near future– a longer one, of course, so Bernstein could lay down the law on journalistic ethics all the better.
The segment via MSNBC below:

Have a tip we should know? tips@mediaite.com