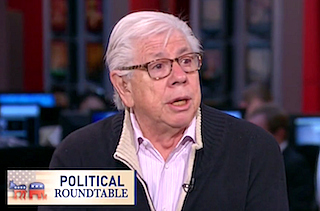 Legendary journalist Carl Bernstein joined MSNBC's Morning Joe and their Joe McCarthy bell to castigate a Republican Party he felt had become extreme to the point of dysfunction. Working off of a New York Times op-ed by John Taft about the radical drift of the GOP, which also compared the current Republican Party to McCarthyites, Bernstein argued that by defying the tea party President Barack Obama might help moderate and bolster the GOP.
"It's like the Democratic Party of segregation," Bernstein said. "It's the same thing. The great contribution of Obama might be to help create a responsible Republican Party in the end, by the rejection of the tea party and the realization that you have to have a mainstream party. Obama has made monkeys out of this wedge that is now on the defensive."
"It's fascinating," host Joe Scarborough said. "As bad as the Republican Party has acted over the past several months and their numbers have gone down, the president's numbers have gone down, too. You have a lot of Democrats rushing to White House very scared, for good reason, about what's going to happen in an off-year election. Right now it's a pox on both their houses."
"It's a pox on the political class," Bernstein said. "We've been for six, seven, eight years without one branch of the government working. The Congress of the United States is broken. It's a dysfunctional institution. We can't have a successful United States of America until there's a restoration of three branches of government that work. Right now, one doesn't work."
"Well, the executive branch isn't doing swimmingly," Scarborough replied.
Watch the fill clip below:
[Image via screengrab]
——
>> Follow Evan McMurry (@evanmcmurry) on Twitter
Have a tip we should know? tips@mediaite.com