Carl Paladino: All Anderson Cooper And Rick Sanchez "Wanted To Talk About Was Gutter Nonsense"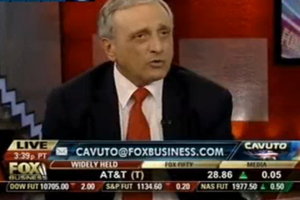 New York Republican gubernatorial candidate Carl Paladino has been making the rounds to chat about his newfound experiences with the media since winning the nomination, and while we already have an idea of what he thinks about the New York Post, it seems that his wrath isn't limited to them, but other reporters obsessed with "gutter nonsense," like Anderson Cooper and Rick Sanchez.
On Fox Business tonight, host Neil Cavuto asked Paladino what he thought of journalists in general. "I've met good and bad," he said, and told Cavuto that the Fox networks were "doing a great job," but that he didn't watch any of the others. He has been on them, however, or at least on CNN, where he argued that his treatment was subpar:
"I went on a couple of these shows. I went on Anderson Cooper. And he, all he wanted to talk about was gutter nonsense. And the guy who just quit CNN, Rich [sic] Sanchez, he just wanted to talk gutter nonsense. So I'm not up for talking gutter nonsense. I'm talking issues. I'm telling people how I'm going to lower their taxes and give them a breather. And give us an honest, straight-up government without the corruption, without the friends and family club, without the pay-to-play club."
The swipe against Sanchez isn't surprising– their discussion was dynamic, contentious and probably one of the better moments in the short-lived history of Rick's List. But Anderson Cooper? Cooper challenged him, but "gutter nonsense" seems a bit of a stretch in describing the type of thing his show usually covers.
The interview with Cavuto via Fox Business below:

Have a tip we should know? tips@mediaite.com