Carlson: Imagine If Anyone Said About Muslims What Clinton Aides Said About Catholics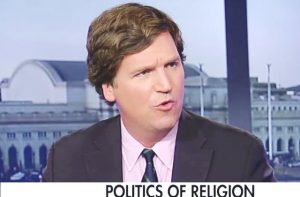 One of the bigger (and perhaps lesser-reported) revelations from the John Podesta emails is somewhat disparaging language Hillary Clinton aides used to describe Catholics.
A fellow at the Center of American Progress emailed Podesta and Jennifer Palmieri the following in 2011:
Ken Auletta's latest piece on Murdoch in the New Yorker starts off with the aside that both Murdoch and Robert Thompson, managing editor of the WSJ, are raising their kids Catholic. Friggin' Murdoch baptized his kids in Jordan where John the Baptist baptized Jesus.

Many of the most powerful elements of the conservative movement are all Catholic (many converts) from the SC and think tanks to the media and social groups.

It's an amazing bastardization of the faith. They must be attracted to the systematic thought and severely backwards gender relations and must be totally unaware of Christian democracy.
Palmieri wrote back, "I imagine they think it is the most socially acceptable politically conservative religion. Their rich friends wouldn't understand if they became evangelicals."
The Trump campaign has condemned this and Paul Ryan has denounced anti-Catholic "bigotry" from the Clinton campaign (Ryan himself has been targeted over his faith). He wants Clinton to fire the aides responsible.
Palmieri reacted to the uproar by pointing out she herself is Catholic, and as a few people on Twitter have pointed out, Donald Trump was actually swiping at the Pope a while ago.
But on Fox's Special Report tonight, Tucker Carlson, who called the emails "infuriating," made this point:
"Catholicism is backwards in its view of gender relations? Compared to what? I mean, you can think of a couple more religions that are far more retrograde… If, by the way, if the subject were Islam, I mean, the president would have a primetime press conference right now urging all of us to quell our Islamophobia."
Watch above, via Fox News.
[image via screengrab]
— —
Follow Josh Feldman on Twitter: @feldmaniac
Have a tip we should know? tips@mediaite.com
Josh Feldman - Senior Editor