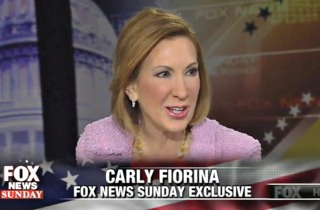 Former Hewlett-Packard CEO Carly Fiorina told Chris Wallace on Fox News Sunday that there is a "higher than 90 percent chance" that she will seek the Republican nomination for president in 2016, and that she will announce her bid in late April or early May.
This comes as no surprise given Fiorina's high-profile appearances in conservative circles in recent months. In February, she spoke before the Conservative Political Action Conference (CPAC), during which she repeatedly went after former Secretary of State (and likely presidential candidate herself) Hillary Clinton. Speaking at the Iowa Freedom Summit in January, Fiorina said that as a businesswoman, she has "actually accomplished something," unlike Clinton.
She told Wallace that Republicans should nominate her because she has a "deep understanding" of how the economy works, and because she understands how to make "executive decisions" required of any commander-in-chief and deal with the bureaucracy in Washington. She lamented the "dependency" people have on the government, and how small businesses are struggling.
Fiorina also defended her business record from Wallace, who brought up that she was fired by the board of directors and 30,000 American workers lost their jobs under her watch. She said she made those "tough decisions" in the face of a recession.
In laying out her case against Clinton, Fiorina said the former Secretary of State "lacks a track record of accomplishment," and has character flaws. She compared Clinton's email scandal to Richard Nixon's recorded tapes, and said Clinton "deliberately" used a private email account to "shield her communications."
Watch the full interview below, via Fox News:
[Image via screengrab]
— —
>>Follow Andrew Desiderio (@forza_desiderio) on Twitter
Have a tip we should know? [email protected]