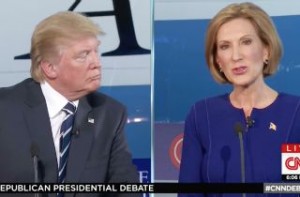 As she did in the first Happy Hour debate in August, Carly Fiorina owned the night once again in Round 2.
And it wasn't even close.
Since announcing her candidacy at the beginning of summer, Fiorina has easily been the best and most impressive candidate on the stump or in interviews of the almost two-dozen running–Democratic and Republican alike–and that isn't even up for debate either. We've all seen it: She's commanding and confident on every issue domestic and foreign; she's passionate yet controlled. She's also authentic (See: Not pre-packaged), fearless (as Trump can attest to) and can reel off facts, figures, history and strategy as assertively and assuredly more than anyone else vying for the presidency (See: The anti-Palin). And as everyone is buzzing about on social media last night and now, Fiorina landed that classic haymaker on Trump, and it was an unrehearsed one at that.
The memorable exchange came after Trump repeated his slam of Jeb Bush for stating that "I'm not sure we need half a billion dollars for women's health programs."
"I think it will haunt him," Trump said last night. "I think it's a terrible. I think it's going to haunt him absolutely. He came back later and he said he misspoke. There was no question because I heard when he said the statement. I was watching and he said the statement."
Cue CNN moderator Jake Tapper, who seemed only interested in creating conflict and food fights in what was a surprisingly uneven, almost immature approach in questioning, asked Fiorina for her reaction about Trump's recent infamous remarks in Rolling Stone about her face, she calmly responded by playing off Trump on Bush from just moments prior: "You know, it's interesting to me," Fiorina said. "Mr. Trump said that he heard Mr. Bush very clearly in what Mr. Bush said. I think women all over this country heard very clearly what Mr. Trump said."
It's hard to believe that at one time, Fiorina wasn't even qualifying to be on the big stage during the main course, all thanks to outdated polls showing her out of the Top 10. But CNN–whose decision to make this presentation almost as long as Titanic at an exhausting three-plus hours was unfair to the candidates (particularly the one in heels) and audience alike–made the right call in allowing her in. The only ones regretting the Carly decision were the other ten candidates on stage, as the 61-year-old Stanford and M.I.T. grad slam-dunked every question with an authenticity and authority in a way no amount of stage-managing could ever be conjured up for the only other woman in the race. And when some at home still getting to know her were probably wondering about her human side, the story of her step-daughter's death due to drug addiction was authentic and poignant, as "Fiorina daughter" ended up being the most-searched item on Google after the debate.
When this whole race began, very, very few folks outside of the business world and California residents had an clue who Carly Fiorina was. No more. Many in the pundit class once felt she was in this race to run for Vice President. Now here's what they're saying across the media spectrum following last night's performance:
Business Insider: Fiorina dropped the mic after stunning debate performance
New York Post: Carly Fiorina makes her case to be GOP Frontrunner
Bloomberg: No One Performed Better Than Carly Fiorina
The Weekly Standard: Carly's Night
Mother Jones: The Moment When Carly Fiorina Completely Owned Donald Trump
Top choice for VP? Please. She doesn't sound like someone hoping to be someone's #2. Former CEOs don't think like that.
Instead, she sounds like a winner.
More importantly, she sounds like a president, and may very well be one.
>> Follow Joe Concha on Twitter @JoeConchaTV
Have a tip we should know? tips@mediaite.com