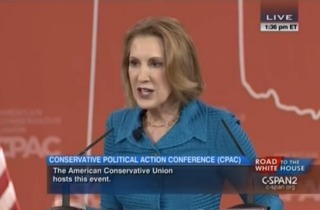 In a fervent speech before the crowd at the 2015 Conservative Political Action Conference (CPAC), former Hewlett-Packard CEO Carly Fiorina touted her business record and went after former Secretary of State Hillary Clinton. She also played to the more hawkish factions of the Republican Party by slamming President Barack Obama on his policies toward fighting ISIS.
"Yes, Mr. President, ISIS wants to drive the whole world back into the Middle Ages, but the rest of us moved on about 800 years ago," Fiorina said to an exuberant crowd. "While you seek moral equivalence, the world waits for moral clarity and American leadership."
The audience responded particularly favorably when Fiorina applauded Jordanian King Abdullah for ordering the executions of two convicted terrorists and beginning to bomb ISIS following the killing of a Jordanian pilot.
"He came to this country seeking support and he has still not received it," she said. "Neither have the Kurds nor the Ukrainians."
Fiorina also gave a surprise shoutout to liberal Sen. Elizabeth Warren (D-MA) for her assertion that crony capitalism is "alive and well," but said the reason why is because of government expansion through programs like Dodd-Frank, Obamacare, and net neutrality.
–RELATED: Carly Fiorina: Unlike Hillary Clinton, 'I Have Actually Accomplished Something'
She then turned her attention to Clinton, a likely 2016 presidential candidate and a frontrunner for the Democratic nomination. While Clinton has traveled extensively around the world, Fiorina said, "flying is an activity, not an accomplishment." She blasted Clinton on everything from the "reset" with Russia to Benghazi to recent reports about potential ethical lapses with the Clinton Foundation's donations from foreign government while she ran the State Department.
"Mrs. Clinton, name an accomplishment. And in the meantime, please explain why we should accept that the millions and millions of dollars that have flowed into the Clinton Foundation from foreign governments don't represent a conflict of interest. She tweets about women's rights in this country and takes money from governments that deny women the most basic human rights. She tweets about equal pay for women but won't answer basic questions about her own offices' pay standards — and neither will our President. Hillary likes hashtags. But she doesn't know what leadership means."
On the subject of courting women voters, Fiorina said they are not an interest group, but rather the majority of the nation. She ended her speech with this zinger: "If Hillary Clinton had to face me on a debate stage, at the very least she would have a hitch in her swing."
Watch the full speech below, via C-SPAN:
[Image via screengrab]
— —
>>Follow Andrew Desiderio (@forza_desiderio) on Twitter
Have a tip we should know? tips@mediaite.com