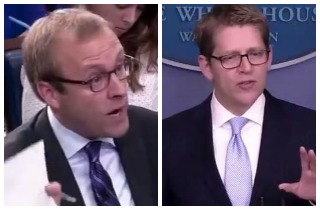 On Wednesday, White House Press Secretary Jay Carney and ABC News White House Correspondent Jonathan Karl engaged in a heated back and forth over the emails recently uncovered that relate to the White House preparing National Security Advisor Susan Rice to discuss the attack on a consulate in Benghazi in 2012. Carney told Karl that the White House urged Rice to focus on an inflammatory video because the focus of her appearances was going to be on the protests around the Muslim world sparked by that video.

"You knew full well that these Sunday show appearances were going to be dominated by the attacking Benghazi, as they were," Karl asserted after Carney insisted that Rice's talking points were geared toward addressing region-wide protests as well as the Benghazi attack.
RELATED: Fox: Email Reveals Obama Advisor Urged Rice to Blame Video for Benghazi
Carney said that those protests have been largely forgotten, and the talking points were created for members of Congress who were interested in them. Karl shot back that former CIA director Michael Morell contradicted Carney's claim in testimony before Congress last month.
"You stood there, time after time, and said that she was referring to talking points created by the CIA," Karl recalled. "Now we see a document that comes from the White House, not from the CIA, attributing the protests to the video."
Carney insisted that the protests outside of American embassies throughout the Muslim world were also a "big story," and the White House prepared talking points to address that situation.
"I know that you and I both are in a different time zone right now," Carney told Karl, "But we are still in April of 2014."
He added that Rice "went out there with the best information that we had at the time."
Watch the clip below via The White House:
[h/t WFB]
[Image via screengrab]
— —
>> Follow Noah Rothman (@NoahCRothman) on Twitter
Have a tip we should know? [email protected]