Carney: Opposing Changes to Health Plans Like 'Being Opposed to Wearing a Helmet' in Helmet Law State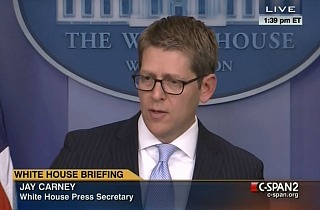 On Tuesday, CBS News Chief White House Correspondent Major Garrett pressed White House Press Sec. Jay Carney on a "philosophical" point regarding whether those who are losing their health care coverage are justified in their frustration over this condition. Carney said that their frustration was as relevant as people who are opposed to wearing motorcycle helmets – compliance is still the law.

"Let me ask a philosophical question," Garrett began. "Is it possible, and does the White House understand, how someone in the insurance market — the individual market — can say, 'You know what? The White House may believe I have a crappy insurance policy, but I like it.'"
"The fundamental philosophical question you're asking was the one that was debated when health insurance reform was debated," Carney replied. "Not just when Obamacare was passed, but every time that health insurance reform has been discussed, and legislated, and Congress has attempted to pass it over a century."
RELATED: Jay Carney Pressed to Concede Obamacare Will Have 'Winners and Losers'
Carney said that creating minimum coverage standards was "what the battle in Congress was about" when the Affordable Care Act was passed in 2010.
"It's not entirely different to someone who is opposed to wearing a helmet in a state where there is a helmet law for motorcyclists, right?" the press secretary continued. "You can be ideologically opposed to it, you may think it's wrong or it's government overreach, but the legislative body that passed that law disagreed."
Carney added that car insurance is also a requirement in most states regardless of the individual's assessment of their driving skills.
"The broader argument about whether you agree or disagree that there should be baseline standards for insurance coverage is one that goes to the heart at the beginning," he concluded. "And obviously the president feels there ought to be."
Carney added that insurance companies "take advantage" of many of those who patronize their services and the ACA was partially designed to address this issue.
Watch the clip below via C-SPAN 2:
[Photo via screen grab ]
— —
> >Follow Noah Rothman (@NoahCRothman) on Twitter
Have a tip we should know? tips@mediaite.com