Carney Snarks to Jon Karl About CMS Official's Testimony: 'Breaking News, Website Is a Problem'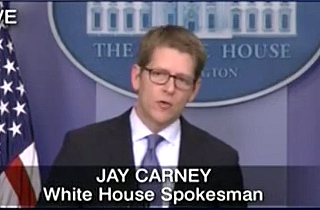 In response to congressional testimony earlier Monday afternoon that a sizable chunk of federal exchange website's architecture is still not built, ABC News' Jonathan Karl asked White House Press Secretary Jay Carney to elaborate on the revelation and the administration's sense of urgency in addressing it.
"[Henry Chao] is saying that 30 or 40% of this tech system that allows for the payments that go to the insurance companies has not even been built," Karl said.
"Well, I think they are building it, is what he said," Carney said.
"You're not concerned about that?" Karl asked.
RELATED: WH Advisor Snarks: POTUS Skipping Gettysburg Address Due to 'This Whole Website Thing'
"Breaking news: the website is a problem," Carney said sarcastically; Karl and Carney have had a bit of testy relationship in the White House briefing room in recent weeks. "And we have been working on it. And people who are trying to work 24/7 on the website are spending a lot of time on Capitol Hill, where they are repeating testimony they gave six days ago, in some cases."
"Yes we're concerned about the website," Carney mollified. "That's why the president is focused so intently on making sure that the best possible teams are working on making improvements to it, that's why people are working around the clock, twenty-four hours a day, seven days a week, to ensure that all aspects of it are functioning, when they're supposed to function. That's where we are in late November of 2013. We're focused on a troubled website that needs to be fixed, we're focused on solutions to problems that exist, rather than an ongoing political effort to undermine the Affordable Care Act without any alternative."
Watch the full clip below, via C-SPAN:
[Image via screengrab]
——
>> Follow Evan McMurry (@evanmcmurry) on Twitter
Have a tip we should know? tips@mediaite.com