Carney to MSNBC: At Least Gingrich Caucus Was 'Consistent' in Their Priorities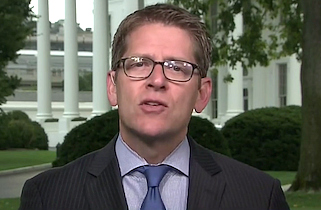 White House Press Secretary Jay Carney appeared on Morning Joe Tuesday morning and compared the current shutdown unfavorably to the previous shutdown in 1995, saying at least the Newt Gingrich-led caucus had consistent, budget-relevant demands, unlike the current GOP House-led effort to capsize ObamaCare.
"Joe was part of the shutdowns under the Clinton Administration when he was in Congress," Carney said, referring to co-host Joe Scarborough, who was part of the class that led the mid-90s shutdown. "Setting aside whether that was good or bad policy for Republicans in the House, at least they were consistent in what they were trying to achieve. They were focused on deficit reduction. That was their number-one priority, and that was related to government spending.
"The Republicans today are focused on a piece of legislation they don't like because the president signed it and it's his signature legislation. And, in fact, if they got what they wanted it would increase the deficit, would make our debt worse."
"I tied Joe to the steps so he can't be a part of this," co-host Mika Brzezinski said. "But I think he'd agree with you. If you're gonna have a shutdown, make it for…something."
"We don't hear the Republicans anymore talking about what was supposed to be their priority," Carney said. "Instead they're talking about the Affordable Care Act and trying to use their opposition to that to shut us down and default on our debt."
Watch the full clip below, via MSNBC:
[Image via screengrab]
——
>> Follow Evan McMurry (@evanmcmurry) on Twitter
Have a tip we should know? tips@mediaite.com