Carnival Snooze: CNN Leads Coverage Of Carnival Triumph Cruise Ship Inconvenio-Pocalypse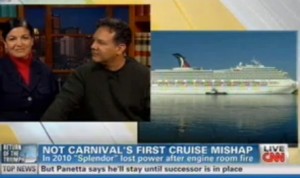 As almost none of America held its breath, all three cable news networks offered live coverage of a ship full of people who were tragically forced to hold their breath. Late Thursday night, the crippled Carnival Triumph ocean liner completed its 7 mile-per-hour journey into the history books, and is now giving new meaning to the term "slow news day." While MSNBC and Fox News each participated in the midnight Carnival circus, CNN has continued its stem-to-stern coverage well into Friday morning, devoting segment after segment to the worst maritime disaster since Gopher was elected to Congress.
The live coverage of Triumph's arrival yielded moments that were the complete opposite of riveting, with mildly harried passengers telling reporters things like "I think (Carnival) handled it as best they could under the circumstances that they had. That's all I can say about that," and "I feel like they did their best. They made a lot of mistakes because they didn't have a tug boat come out immediately…The crew was amazing," and "I mean, I'll do it again. I'm not worried of not, you know, ever traveling with them ever again. I will."
Among those severely inconvenienced by the disabled cruise ship's un-deadly journey were MSNBC's Ed Schultz and Fox News' Marianne Rafferty, whose employers insisted on joining in on the live late-night coverage, but a quick glance at the three cable networks shows that CNN really went overboard. On Thursday and Friday morning, CNN mentioned the Carnival non-saster 168 times, compared with 62 mentions by Fox News, and only 25 by MSNBC.
That's because CNN devoted so much of its air Friday morning to covering every conceivable angle of the QE:Poo, as  no one is calling it, interviewing passengers, reporting on the breakdown of a bus that was carrying passengers to New Orleans, interviewing maritime legal experts on whether or not these people can sue. I'd love to be on that jury. Oh, you were on a cruise for 8 days instead of four, and you didn't run out of food or water, and you had trouble charging your cellphone, and all you got was a full refund, $500 bucks, a night in a hotel, and another free cruise? Yeah, you get 3,000 tiny violins, and a case of Purell®. Even white people are like, "Those are some white people problems."
There was, of course, the matter of fecal matter, which featured heavily in the coverage of the Carnival Triumph, and which also heavily covered much of the Carnival Triumph. Apparently, this is a known issue when a cruise ship loses power, and one which is only solvable with red plastic bags.
That leads me to CNN's most awesome cruise ship segment this morning when, having run out of mildly-gruntled passengers and maritime lawyers to interview, Brooke Baldwin talked to : Lenore Chavez and David Zambrano, a couple of passengers from another Carnival cruise inconvenio-pocalypse, the Carnival Splendor, from 2010. The best part was their revelation that their ill-fated cruise didn't even feature plastic bags to poop in, followed by Zambrano's description of their homecoming: "When we were getting ready to get off, I remember the CEO came on board and was apologizing to everybody, stood in the lobby, shook everybody's hand, shook my hand."
Here's hoping he washed his hands since then, and here's hoping CNN washes its hands of this story sometime soon.
And here's the clip, from CNN's Starting Point:
Have a tip we should know? tips@mediaite.com