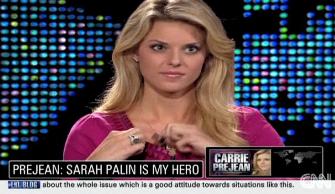 When you agree to an interview with CNN's Larry King, you better come correct, because that guy will nail you – with softballs.
Author and preachy solo sex tape performer Carrie Prejean found that out last night the hard way, as she fell prey to the 'tough' questions from King and almost walked off set.
What really seemed to irk Prejean were King's incessant questions about why she agreed to the settlement – not, he stressed, what was in the settlement. According to Prejean, her reason for agreeing to the settlement was equally confidential, for some reason. "Larry it's completely confidential and you're being inappropriate," she said.
A somewhat stunned King moved on: "Inappropriate King Live continues, Detroit, hello."
As he took a call from someone who introduced himself saying, "I am a gay man and I love pageants," Prejean could be seen mouthing to someone off set that she was "going to leave" and removed her microphone. But she didn't take out her IFB earpiece, so when she seemed to have a change of heart and stayed sitting in her chair, she could hear King asking her what she was doing and spoke loudly in response, presumably so a studio mic would pick up what she said. The whole thing was bizarre, and only made more so by the fact that she was back after the commercial break for a couple final minutes.
Here's what happened when King returned:
King: You don't want to take phone calls right?
Prejean: Yeah that was the agreement you had with my publicist, so…
King: Oh. No one told me. I didn't know. I didn't know we weren't supposed to take phone calls.
The whole thing is much more awkward on video, and is only made more ridiculous by the fact that, while Larry King is a legend, he isn't known for nor did he present her with hard hitting questions. Then again, it wasn't exactly the comfort of a Sean Hannity interview.
Here's the key part of the interview (and as a side note: the new CNN.com is getting very aware of giving the people what they want – the video below was promoted on the homepage and is headlined "Carrie Prejean gets mad!"):


—–
» Follow Steve Krakauer on Twitter
Have a tip we should know? tips@mediaite.com