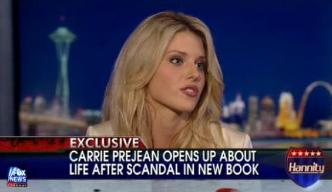 Carrie Prejean gave an exclusive interview to her favorite cable news program – Sean Hannity's Fox News show – last night, and she had a lot to talk about.
Prejean has a tell-all book out this week, and there are rumors of a sex tape floating around. Yeah, a sex tape.
The first step by Hannity was to establish exactly what was on this supposed sex tape. "I was all by myself, I was sending a boyfriend at the time who I loved and cared about video of me," Prejean said. Ok – solo, so…not exactly a sex tape, but it doesn't fit her established M.O. either.
> Update: Well that wasn't much of an exclusive – she was on the Today show this morning as well.
Prejean has a book out this week, "Still Standing," (which has a cover that looks a lot like Sarah Palin's) and Hannity has a reason to be excited for its success – he wrote the forward. Here's what you'll find in this new publication. "People have heard bits of pieces of the liberal media's version of it but basically its for Americans who believe their beliefs are under attack," she said.
Also, there's advice for young girls. "Nothing is private anymore, nothing is private, with Facebook, with MySpace, with all that going on you have to be so careful," said Prejean. Also, apparently with solo sex tapes.
Hannity, presumably to cheer her up, tried to put himself in her shoes. "If there were pictures of me, I'll be honest, I'd be melting and falling apart," he said. (Wait, there's one picture of Hannity that might have some people falling apart.)
Look, Prejean has gone through the media wringer, and sure, some of that is self-inflicted. But a point driven home by Hannity is a good one – she's 22-years-old. "I make mistakes just like all of us make mistakes," said Prejean during the interview, and that's true. But she's working from a standpoint that mistakes like this aren't in her repertoire. Will she stick around the media spotlight? We'll see – Joe the Plumber hasn't exactly disappeared, and Prejean has that extra something that Joe never will.
Here's the full interview:


—–
» Follow Steve Krakauer on Twitter
Have a tip we should know? tips@mediaite.com