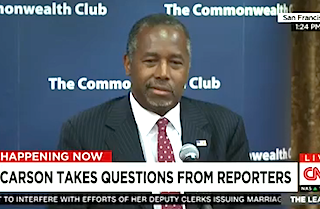 By portraying himself as a political outsider who has not been corrupted by the inner-workings of Washington, Ben Carson has slowly but surely risen in the Republican primary polls. But as GOP frontrunner Donald Trump found out last week, being an "outsider" can also mean a lack of essential knowledge about foreign policy and other important issues a president will need to understand.
During a press availability in San Francisco Tuesday, one reporter asked Carson how his career as a pediatric neurosurgeon will help him deal with ISIS or North Korea.
"The way I kind of look at it, there are those who feel that the only people who can actually come up with solutions are people with a lot of political experience," Carson explained. "If you take the political collective experience of Congress it comes out to almost 9,000 years. What has it done for us?"
"I would much rather deal with somebody who thinks logically, who has the ability to acquire a lot of information, to use experts as a specialist in medicine does." He went on to use one of his frequent medical analogies, saying that while he knows a lot about the brain, if he runs into a kidney problem with a patient he will call in a renal specialist.
"There's nobody who knows everything," Carson said. "And I think the people who do the best are the ones who know how to utilize experts around them." Asked specifically about his proposed plans to increase military action in the Middle East, Carson again used his medical background as a reference point. He said he would remove ISIS the same way he would remove a tumor from someone's body.
"I have to go in there and expose them to danger, but the long term goal is to preserve their life," Carson said. "We look at something like the global jihadist movement and their goals, the sooner we eradicate them, the less damage they can do. If you leave that tumor there, it's going to kill you."
At least he didn't say he gets military advice by watching the Sunday morning talk shows.
Watch video below, via CNN:
[Photo via screengrab]
— —
>> Follow Matt Wilstein (@TheMattWilstein) on Twitter
Have a tip we should know? [email protected]