Carson Walks Back Support For Trump's 9/11 Claim, Calls It 'Misunderstanding'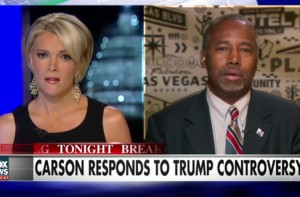 Appearing on Fox News' The Kelly File Monday, Republican presidential candidate Ben Carson walked back his support for Donald Trump's comments that "thousands" of American Muslims celebrated the 9/11 attack, calling it a "misunderstanding."
Earlier in the day, Carson claimed to have "seen the film" of American Muslims celebrating the fall of the World Trade Center, the way Trump claimed. But when asked by Megyn Kelly if he wanted to walk those comments back, he did.
"What we were talking about is the reaction of Muslims after the 9/11 attack, and if they were in a celebratory mood. You know, I was really focusing on that it was an inappropriate thing to do, no matter where they were," Carson said.
"They asked me did I see a film; I did see the film. I don't know where they were, but I did see a film of Muslims celebrating and I was making a point…" he continued.
"But it was important whether these were American Muslims in New Jersey versus folks over in Iran or in the Middle East," Kelly interupted. "So you admit to a lack of caution in answering that question?"
"Yeah, yeah," Carson said. "I mean, I thought we were just talking about the fact that Muslims were inappropriately celebrating. I didn't know that they had an agenda behind the question… It had nothing to do with [Trump] or his claim. It was more of an misunderstanding of what we were talking about."
Watch above, via Fox News.
[Image via screengrab]
——
>>Follow Alex Griswold (@HashtagGriswold) on Twitter
Have a tip we should know? tips@mediaite.com