Carter: Obama 'Mistaken' for Thinking Immigration Delay Would Help Dems in Midterms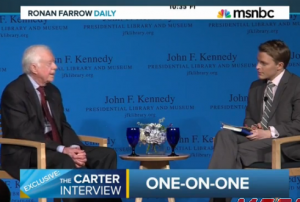 Earlier this year, President Barack Obama announced he would delay announcing his executive actions on immigration reform until after the midterm elections — a move that Republicans pounced on, saying the president is just delaying it for political reasons to protect vulnerable Democrats. Immigration activists — many of them sworn Democrats — were also unhappy with President Obama. The delay did not seem to help Democrats, as they suffered significant losses on Election Day regardless of President Obama's decision to delay his actions.
So how does former President Jimmy Carter factor into this equation? His grandson, a Democrat, ran unsuccessfully in the Georgia gubernatorial race this year.
Carter, in an interview with MSNBC's Ronan Farrow on Friday, predictably defended the president's executive actions that he announced on Thursday. But when Farrow asked Carter about the politics of delaying his announcement until after the midterm elections, Carter seemed to stumble and had to pause for a few seconds in the middle of his response.
He first acknowledged that he is "biased on that subject" due to his son's presence in the Georgia race, but then criticized Obama for believing that a delayed announcement would have ever prevented Democrats from suffering losses in the midterm elections.
"Although Democrats lost all over the nation … I think, from a partisan point of view, he was justified to wait until after the election, but he was mistaken in thinking it would make a difference," Carter said.
Watch the video below, via MSNBC:
[Image via screengrab]
— —
>>Follow Andrew Desiderio (@forza_desiderio) on Twitter
[Note: Mediaite intern Andrew Desiderio is a student at The George Washington University.]
Have a tip we should know? tips@mediaite.com