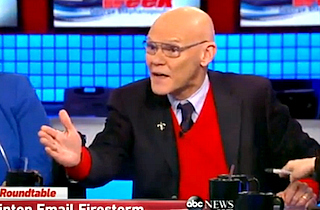 This Week host George Stephanopoulos, no stranger to the Clinton ways, asked Democratic strategist James Carville if it wasn't a little "dispiriting" that the Clintons not only once again found themselves amidst scandal, but that they were again slow to deal with it.
"The Clinton camp did demonstrate in the past ten days that they weren't up to speed," Stephanopoulos said. "It took them an awful long time to determine what the story was and respond."
Carville argued that many of the "scandals" that had enveloped the Clintons over the years had evaporated, and argued that this was yet another attempt to sink the political family with GOP-fed innuendo.
"It's never going to stop," he said. "It's what I call the Clinton Rule: there's a rule that applies to Clintons and a rule that applies to everybody else." (This is, of course, the same argument Clinton critics have always made.)
"Colin Powell does the same thing, Jeb Bush does the same thing," Carville continued, "and you go, 'Oh, well, that's Colin Powell.'"
The rest of the segment was spent discussing whether Jeb Bush had turned over enough emails in his email dump earlier this year or whether he was trying to hide something in plain sight, which was exactly what Carville was going for.
"The fact is still that the Clintons are still dealing with it in the same way," Stephanopoulos concluded, "and that is what's so dispiriting." #neverforget: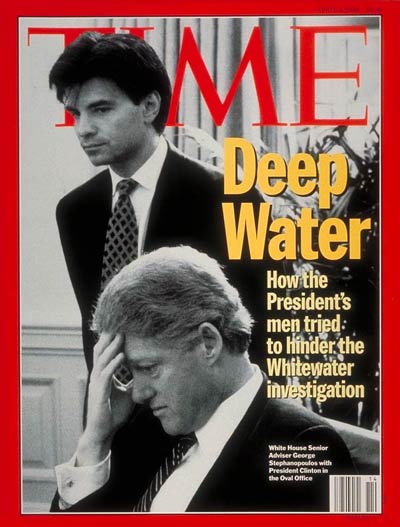 Watch the clip below, via ABC News:
[Image via screengrab]
——
>> Follow Evan McMurry (@evanmcmurry) on Twitter
Have a tip we should know? tips@mediaite.com