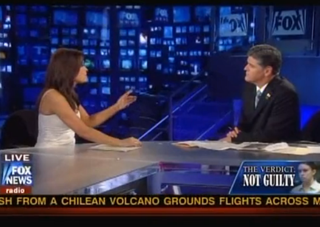 The Casey Anthony trial has caused all sorts of television analysts to get loudly indignant over the loss of Caylee Anthony's life, and on last night's Hannity, Sean Hannity's panel debated the merits of the outrage towards the jury. During the exchange, Hannity found himself caught in the crossfire of his two attorney guests as Kimberly Guilfoyle, continuing a dispute from the night before, vociferously claimed the evidence proved Casey was guilty.
Guilfoyle joined Hannity and defense attorney Robert Shapiro, who all seemed to agree on the fundamental facts of the outcome– that the jury appeared uncomfortable with the consequences of the first degree murder charge and going for that conviction may have cost the prosecution the entire case. That's about where the harmony ended, however, as Guilfoyle recounted the story of how Caylee Anthony was found and argued it was hard for her to see how a jury could have let Anthony go. "They didn't have a specific cause of death," she noted, "because this little girl's body was dumped in a garbage bag and was left for five months" to decompose. Even taking that into account, Guilfoyle argied "the circumstantial evidence only points to one conclusion," which Hannity disputed arguing that the prosecution "didn't meet their burden" in proving beyond a reasonable doubt the circumstances were such for Casey to be guilty.
Shapiro then jumped in to emphasize the importance of the severity of the charges, rephrasing what the jury was told to do as "Could you sleep comfortably every single night convicting Casey Anthony of first degree murder and executing her, knowing you made the right decision?" To Shapiro, it was clear no one on the jury could do that. On this point, Guilfoyle agreed, noting that she also would not have convicted Anthony of first degree murder, but that negligent homicide or felony murder (if evidence of felony child abuse, but not intent to kill were found) should have been on the table.
The fiery discussion via Fox News below:

Have a tip we should know? [email protected]