Catholic League Pres Challenges Chris Cuomo: Where Are 'Examples of Gay People Being Persecuted?'
Catholic Leader Clashes with Cuomo: Where Are 'Examples of Gay People Being Persecuted?'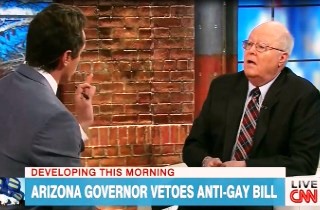 In the wake of Arizona Gov. Jan Brewer's veto of a controversial bill which would have preserved religious freedom by allowing business owners to deny proving certain services to gay and lesbian people, Catholic League President Bill Donohue sat down with CNN's New Day host Chris Cuomo to debate the merits of the law. Donohue asserted that the Arizona bill had been mischaracterized by opponents and asked Cuomo to demonstrate for him where gay people were being persecuted.

Donohue began by accusing President Barack Obama's administration of "encroaching on the rights of people of faith" in a variety of areas. "Gays as individuals, I'm with you on that Chris, let's protect them in the workplace, let's protect them as individuals," Donohue insisted. "What my concern is, and I think I speak for a lot of people of faith, is the institution of marriage. That's a separate issue altogether."
RELATED: Arizona Gov. Jan Brewer Vetoes Controversial 'Anti-Gay' SB1062 Bill
"Where are the examples of gays being discriminated against?" Donohue asked. "If they're being discriminated against, how come they make more money than straight people on average?"
"Is somebody being denied at Applebee's getting a hamburger? Where are these examples?" he followed up.
"Under the law in Arizona, there is no special protection of the LGBT community, so a business member, if he or she wanted to or she wanted to, could discriminate without violation," Como said. "That's why the law was unnecessary. Do you get that?"
"Can you enumerate for me examples of gay people in Arizona who are having their right violated by people of faith?" Donohue asked.
"Can you point out a business that was made a substantial burden religiously because of what they had to do vis-a-vis a gay person?" Cuomo shot back.
Donohue insisted that he has "no sympathy" for business owners who do not want to offer services to gay people. He did insist, however, that he objects to laws which would force marriage service providers to provide that service to LGBT people in violation of their religious belifes.
Watch the clip below via CNN:
[Photo via screen grab ]
— —
> >Follow Noah Rothman (@NoahCRothman) on Twitter
Have a tip we should know? tips@mediaite.com