Catholic League President: Why Does Louis C.K. Have 'Child Rape on His Mind?'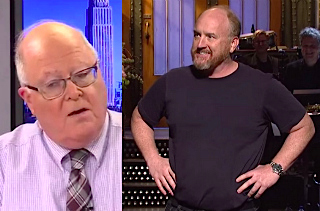 Towards the end of his nearly 10-minute long monologue on this past weekend's season finale of Saturday Night Live, comedian Louis C.K. delivered an extended bit about child molesters. And now, Catholic League President Bill Donahue is upset about it.
Appearing on Newsmax TV with Steve Malzberg Monday afternoon, Donahue said he's "glad" Louis C.K. didn't get a "warm reception" on SNL for making fun of pedophilia. He also noted that a few years back the comedian suggested that Pope Benedict XVI was a child molester during an appearance on The Daily Show.
"The Pope fucks boys," Louis C.K. said in that 2010 interview. When Jon Stewart disputed that fact, he clarified, "Well, he lets other people do it. My feeling is this. There's only two kinds of people: There's people who are horrified and reviled by child touching with penises and then there's the people who can't stop having sex with children. There's no in between. There's nobody who's like, 'I don't do it, but I get it.'"
Of course, a few years later when that pope stepped down, he was accused by victims' groups of being "complicit in child sex abuse scandals."
"I'd like to know, why does this man have child rape on his mind?" Donahue asked of Louis C.K.
In this same interview, Donahue said he's "delighted" that the "anti-Catholic" David Letterman is retiring because he has joked about priests having sex with young boys.
As an advocated for the Catholic Church, Donahue has long made strides to downplay the sex scandals that have plagued the institution. In a full page ad published in The New York Times in 2010, he wrote that the Catholic Church does not have a "pedophilia" problem but rather a "homosexuality" problem because, according to him, most victims were "post-pubescent" and "most of the molesters have been gay." In a subsequent appearance on Larry King Live, he defined "post-pubescent" as "12, 13 years of age."
Watch video below, via Newsmax:
And in case you missed it, watch Louis C.K.'s full SNL monologue below, via NBC:
[Photo via screengrab]
— —
>> Follow Matt Wilstein (@TheMattWilstein) on Twitter
Have a tip we should know? tips@mediaite.com