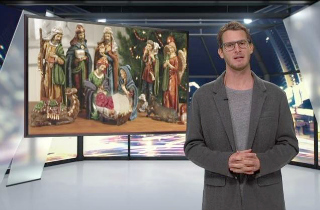 Another day, another Catholic League attempt to capitalize on some sort of cultural moment to spread the good word about how everything is awful and you should all repent because Bill Donohue is mad about something, or because you touch yourself at night.
The latest offense came from Comedy Central's Daniel Tosh, who explained to his Tosh.0 viewers that several weeks ago, the show got the hashtag "#beefbaby" to be the number-one trending topic in the world. "[W]hen I told the network that we were doing a Christmas episode they insisted that I show everyone how the beef baby was born," he added. "And I thought it was a little controversial, but hey, they're the boss."
So how was "beef baby" "born"? Tosh went for the gross-out comedy, showing how it was made with meat, feces, and semen. "Don't forget to wrap that beef baby in swaddling clothes, before laying him in a manger," he joked.
Naturally, the Catholic League prepared its fainting couch and issued a statement, via its chief Bill Donohue:
We have men and women in the armed forces fighting for our freedoms this Thanksgiving, but what they are not fighting for is the right to abuse those freedoms. Let's be clear about this: The depraved executives at Comedy Central who authorized this frontal assault on Christians did not exercise their First Amendment right—they perverted it.
And the kicker:
No wonder many Muslims look at the way we interpret freedom and wind up hating us. It is the likes of Comedy Central that fuels the animus.
Ah, it all makes sense now.
(Happy Thanksgiving, everyone!)
— —
>> Follow Andrew Kirell (@AndrewKirell) on Twitter
Have a tip we should know? tips@mediaite.com