Catholic Priest Disowns Santorum's Satan Comments As 'Not Catholic' To O'Reilly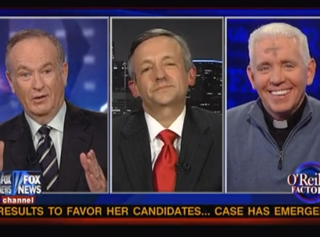 Perhaps because the topic is taking over so many headlines or perhaps because it is Ash Wednesday, Bill O'Reilly dedicated a segment of his program today to Rick Santorum's recent comments on religion, on Satan threatening America. For this topic, he had two men of faith on the program: Pastor Robert Jeffress and Father Edward Beck, and it was not the priest from Santorum's church who supported his comments.
RELATED: Santorum Tells Romney He Doesn't 'Know What You're Talking About' In Earmark Scuffle

In fact, Father Beck seemed very concerned both for Santorum's electoral prospects and his understanding of Catholic theology. "It doesn't appeal to people more in the middle," he explained, and crowned Santorum "more of an Evangelical Catholic, to the right of most Catholics." O'Reilly asked whether he thought Santorum was "honest," which he agreed on but "you can not agree with an honest person." He counseled Santorum to take a more secular, Kennedy-esque approach.
"I don't agree with Santorum on every social issue… but I admire a candidate that is willing to stand on principle," Jeffress replied, adding to a comment from O'Reilly that Santorum was a "very judgmental guy" that the candidate's theological comments were not even made recently or often. "He is not out on the stump giving policy speeches about Satan," Jeffress noted, and said he was "in the mainstream of what millions of Christians believe" and not "some nutjob on the fringe." Father Beck objected to this, but was cut off by O'Reilly when making a point about Catholic theology, redirecting instead his point to electability– most Christians, to him, did not agree with Santorum.
The discussion via Fox News below:

Have a tip we should know? tips@mediaite.com