Caught On Camera: Former GOP House Candidate Charged With Slashing Opponent's Tires
Caught On Camera: Former GOP Candidate Charged With Slashing Opponent's Tires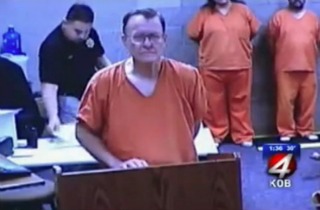 Gary Smith, former Republican candidate for New Mexico's 1st Congressional District, was arrested Friday evening for allegedly slashing his opponent's tires.
Janice Arnold-Jones, the Republican nominee for the district, gave police home surveillance video showing an older man slashing her tires with an ice pick on December 20. Arnold-Jones told the Albuquerque Police Department that she believed the man was Smith and Detective Lorenzo Garcia said he was able to verify that it was indeed.
"I looked at Gary Smith's MVD photo and compared it with the video and it showed it did appear to be him," Garcia said.
This isn't the first time Smith, a 65-year-old Army veteran, has run into campaign-related legal trouble. In April, Arnold-Jones campaign sued Smith, asserting that he did not have enough signatures on his petition for the Republican Primary Election. The court agreed and Smith was knocked off the GOP ballot. According to Arnold-Jones, Smith slashed her tires in retaliation.
Arnold-Jones said she had placed the cameras outside her home to find out who had been continuously vandalizing her cars. She claims to have spent thousands of dollars to replace her tires.
"This is not politics," she said. "I know what it's like when there is political retribution. You lose your bills, you lose your office, you lose your parking space. That's none of this. This is an assault on my private property on our residence and I believe it's by someone who is not very stable."
Police believe Smith may be responsible for slashing the tires of other parties who participated in the law suit against him.
KOB Eyewitness News 4 was at Smith's home when he was placed under arrest. When asked if he had slashed the tires, Smith replied, "I don't even know what's going on. They haven't explained anything to me yet. I don't even know why they came to my house."
Reporter Chris Ramirez explained the charges to him and asked, "Did you do it?"
"No, not at all," Smith responded. He maintained his innocence even after being told there might be video footage of the crime.
Smith is being charged with criminal damage to property, a felony. He was released upon posting a $5,000 bond.
Watch the full clip below, via KOB:

—
>>
Follow Anjali Sareen (@AnjaliSareen) On Twitter
Have a tip we should know? tips@mediaite.com