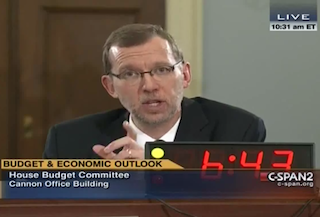 The Congressional Budget Office's latest Budget and Economic Outlook report has landed on the political media like a ton of bricks. From the initial stories saying the Affordable Care Act will reduce full-time employment over the next 10 years, to the subsequent response from fact checkers who say Obamacare will not "kill" jobs as conservatives have been claiming, to everything in between, it has been hard to get an interpretation of the report that is not full of spin.
Today, CBO director Douglas Elmendorf testified before the House Budget Committee and attempted to clarify some of the confusion. One illuminating moment came during questioning from Rep. Chris Van Hollen (D-MD), who chose to highlight another part of the report that concerns the unemployment rate.
After pointing to a section of the report that says the Affordable Care Act will "boost overall demand for goods and services" and therefore "boost demand for labor over the next few years," Van Hollen asked Elmendort, "When you boost demand for labor in this kind of economy, you actually reduce the unemployment rate, because those people who are looking for work can find more work, right?"
"Yes, that's right," Elmendorf said.
Van Hollen proceeded to castigate the media for putting out "this idea that somehow the Affordable Care Act was going to hurt jobs" and stress the fact that the CBO director confirmed that Obamacare will actually reduce unemployment.
"I think it's really important that that information gets out there," Van Hollen said later, "because as the media has confessed, they bought hook, line and sinker some of the talking points from our Republican colleagues. And unfortunately misrepresentation go around the world three times before the truth begins to catch up."
Watch video below, via C-SPAN2:
[h/t Washington Post]
[photo via screengrab]
— —
>> Follow Matt Wilstein (@TheMattWilstein) on Twitter
Have a tip we should know? tips@mediaite.com