CBS 60 Minutes' Lara Logan Apologizes for Erroneous Benghazi Survivor Report: 'We Were Wrong'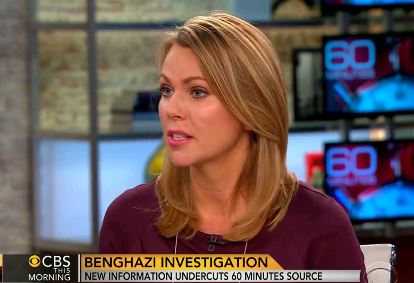 CBS 60 Minutes reporter Lara Logan admitted on Friday that a person who claimed to have been witness to the deadly September 11, 2012 attack on an American consulate in Benghazi and who served as the centerpiece of a recent report on that attack may have misled her.

In late October, 60 Minutes ran a report featuring the account of British security expert Dylan Davies – though he called himself Morgan Jones – who recounted in detail his actions in the early morning hours during the Benghazi attack.
It was later revealed that Davies told the FBI he did not visit the American diplomatic compound on the night of the attack and had not, as he claimed, seen the body of slain U.S. Ambassador Christopher Stevens.
RELATED: CBS News, Lara Logan Defend Controversial 60 Minutes Benghazi Report
"The most important thing to every person is the truth and today the truth is we made a mistake," Logan said. "That's very disappointing for any journalist."
"Nobody likes to admit that they made a mistake, but if you do, you have to stand up and take responsibility and you have to say that you were wrong," she continued. "And in this case we were wrong."
Logan recounted how CBS became aware of an incident report which led 60 Minutes reporters to question his account only after their interview with Davies had aired.
Logan said that they had thoroughly investigated Davies story prior to airing his report, including reviewing his communications with American officials and viewing his personal photographs of the scene of the attack on the morning after.
"We take the vetting of sources and stories very seriously," Logan added. "But we were misled and we were wrong and that's the important thing."
Earlier in the week, Logan defended the 60 Minutes report which already was being called into question in a number of press outlets. She said that the book The Embassy House, written under Davies' Morgan Jones pseudonym, "he never had two stories."
"Why would you stand by this report after Dylan Davies admitted lying to his own employer," CBS This Morning anchor Norah O'Donnell asked.
"Because, he was very up front about that from the beginning," Logan replied. "That was always part of his story."
Logan said that 60 Minutes will apologize and correct the record this coming Sunday night.
Watch the clip below via CBS:
[Photo via screen grab ]
— —
> >Follow Noah Rothman (@NoahCRothman) on Twitter
Have a tip we should know? [email protected]