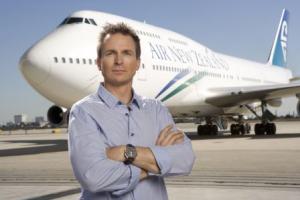 When a reality show contestant gets hit full in the face with a watermelon fired from a giant slingshot, well, you really want to be seeing that in HD, you know? But that's exactly what The Amazing Race gave us in Season 17, which winds down with its million-dollar finale on December 12.
Ever frustrating its fans, TAR has stuck it out in SD while contestants on Survivor killed chickens and ate bugs in blistering high definition. Could it really be that much harder to shoot a show that's snagged seven Emmy Awards for best reality show in HD?

Well, kids, next time teams have to roll giant wheels of cheese down a hill, we'll be kicking it widescreen. CBS has announced TAR comes back in the Spring in full HD:
"We're thrilled the audience watching us sprint around the globe each week will continue to witness the breathtaking landscapes that serve as our backdrops, only now in high definition. Whether we're racing alongside the crystal-white peaks of the Arctic Circle, the neon-lined skyscrapers of Japan, or the color-drenched domes of the Russian Kremlin, fans will enjoy a heightened viewing experience as we bring the world to their couch every Sunday night," said Executive Producer and co-Creator Bertram van Munster.
The decision to outfit photographers with HD cams comes weeks after host Phil Koeghan made clear it was "imperative" to get the show into HD: "I think it makes sense for the show to be in HD. I really don't know all the reasons why it isn't–I don't even want to get to it, I don't know. But I would love to see the show in HD, and I do hear it a lot from fans. And I do think it is something that needs to come to the show. I think wide format, 16:9, and the HD is imperative.
Previously, producers had said it would be prohibitively expensive to span the globe in HD: "More than two years ago, Amazing Race executive producer Jonathan Littman told USA TODAY that upgrading would be "a pretty high escalation in our budget. It's not double at the moment, but it's hundreds of thousands of dollars for the total run."
Groovy. Now that we've got that solved, can we do something about those legs where the team in first place bolts at dawn for the airport only to find out the first flight isn't until 11 that night–meaning every single team will catch up and be on the same plane? Hate that!
Have a tip we should know? [email protected]