CBS Analyst Shocks Audience By Saying He's There 'To Bring The White Man's Perspective'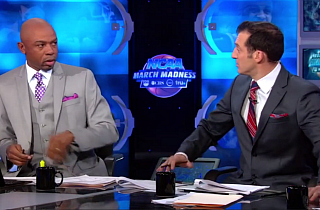 CBS sports analyst Doug Gottlieb caused a bit of controversy on Thursday evening when he made an awkward joke about being the only white man on a panel of black ex-pro basketball players during the network's NCAA tournament Sweet 16 coverage.
Sandwiched between retired basketball stars-turned-analysts Greg Anthony, Kenny Smith and Charles Barkley — all of whom are black — Gottlieb remarked: "I don't know why you guys ask me. I'm just here to bring diversity to this set, give kind of the white man's perspective."
Oooookay then. The goofy remark was met with awkward silence for a second or two before his co-panelists let out some chuckles and teased him for "swimming upstream" with such an overeager joke.
"What happened with you guys?" Gottlieb asked as the rest of the panel reacted.
While his colleagues ultimately seemed fine with the oddball comment, Twitter users took to the web to brand Gottlieb "racist," prompting the analyst to respond in kind: "It is called a joke." But ESPN football analyst Mark May suggested Gottlieb should be "canned" for his on-air comment.
Later on during the CBS tournament coverage, Barkley came to the defense of his colleague, saying "I know this has nothing to do with the game. I wanna say something about Doug Gottlieb. He made a joke earlier tonight. All those people on Twitter who are going crazy, which I would never ever do, listen me Kenny, Greg Anthony, and Greg Gumbel didn't take that personally so all you people at home who've got no life who are talking bad about Doug Gottlieb get a life. It's no big deal."
Gottlieb himself issued a statement of apology: "It was not a smart thing to say and I apologize," he said.
Watch the original remark below, via CBS:
[h/t Sportsgrid]
— —
>> Follow Andrew Kirell (@AndrewKirell) on Twitter
Have a tip we should know? tips@mediaite.com