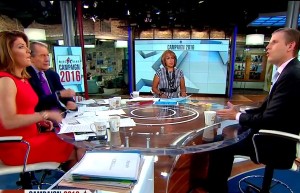 The Donald Trump campaign, and the wider pro-Trump media universe, have seized on a new strategy to deflect some of the impact of Trump's feud with the parents of the late Captain Humayun Khan, a Muslim soldier who was killed in Iraq. They've taken to arguing that Patricia Smith, the mother of one of the four Americans slain in Benghazi, hasn't gotten the attention that the Khan family has. Fox and Friends took a run at it Monday with a false claim that no one carried Smith's speech, then revised the talking point on Tuesday to compare coverage of the two stories on the "Big Three" broadcast networks.
Eric Trump, son of the billionaire Republican presidential nominee, rolled the latter talking point out on Tuesday morning's CBS This Morning, but was promptly shut down by co-anchor Norah O'Donnell, who pointed out a rather ironic reason for at least some of the disparity:
Eric Trump: Pat Smith, the mother of one of the soldiers in the Benghazi, between all the news networks, she got 70 seconds of air time. The khan family has gotten hours and hours of air time.

O'Donnell: Pat Smith actually spoke at the Republican National Convention, your dad called in to Bill O'Reilly, and the channel switched to your dad calling in to Bill O'Reilly. It wasn't even covered on Fox.
That's right, folks, the reason Fox News didn't carry Patricia Smith's speech live, even though the other news networks did, is because Donald Trump called in to Fox News to give an interview while Smith was speaking.
Eric Trump is also just factually incorrect. All three of the news networks covered the Pat Smith speech extensively. According to TV Eyes, CNN and MSNBC did at least 12 segments apiece that mentioned the speech.
Trump is referring to an "analysis" by the Media Research Center, which only took into account broadcast news coverage, and which made the inaccurate comparison between Patricia Smith's speech, which it said got 720 seconds of coverage, with the Khizr Khan speech, which it said got 55 minutes and 13 seconds of coverage. However, according to TV Eyes, the Big Three only devoted a total of two segments totaling one minute and fifty seconds to the speech itself. The rest of the coverage MRC attributes to the speech was actually of Donald Trump's response to Mr. Khan and his wife, and the ensuing feud.
Have a tip we should know? tips@mediaite.com