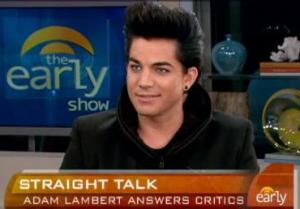 After complaints about his racy performance at Sunday night's American Music Awards, ABC's Good Morning America canceled Adam Lambert's planned appearance today, and CBS' The Early Show quickly scooped up the interview and performance.
Lambert addressed the backlash, but offered no apology. And CBS didn't seem completely comfortable with it either.
During the pre-taped interview with Maggie Rodriguez, discussed the criticism of the inappropriateness of his performance. "I'm not a babysitter, I 'm a performer," said Lambert.
But we didn't get to the see key parts of the performance as CBS played the b-roll during Rodriguez' questions, because CBS blurred out both the simulated oral sex and Lambert's kiss with a band member. The kiss is especially telling, considering they did not blur out the Madonna-Britney kiss from 2003 earlier in the show, according to TVNewser. And it should be noted that the lower third described the segment as "Straight Talk" during the entire interview.
The double standard of his critics – and, apparantly, CBS' The Early Show – is something Lambert touched on. "Lady Gaga, smashing whiskey bottles, Janet Jackson grabbing a male dancer's crotch, Eminem talked about how Slim Shady has 17 rapes under his belt," said Lambert. "There was a lot of very adult material on the AMAs this year, and I know I wasn't the only one."
More on double standard from Lambert: "If it had been a female pop performer doing the moves that were on the stage I don't think there'd be nearly as much of an outrage at all…I think it's a double whammy. I think it's because I'm a gay male."
With all the extra attention Lambert is gaining from the controversy, we'll see next week if it affects album sales. At the very least, he's become a topic of conversation, and a chance to talk about broader issues, regardless of what you think of the music.
Here's the interview, and below, Lambert's performance:

Watch CBS News Videos Online

At the end of the show, Lambert performed two songs, beginning with what will be his first single, "What Do You Want From Me." While the CBSNews.com link says "Adam Lambert Live," it appears the performance, which was stripped down and more of a ballad, was pre-taped as well. Lambert's pre-taped performance on Late Show with David Letterman airs tonight:

Watch CBS News Videos Online

—–
» Follow Steve Krakauer on Twitter
Have a tip we should know? tips@mediaite.com