Bob Schieffer Scolds Pelosi For Congress Doing 'Basically Nothing' On Economy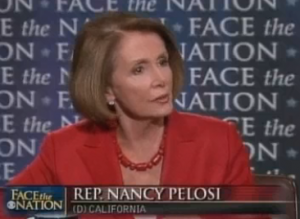 House Democratic Minority Leader Nancy Pelosi sat down with Bob Schieffer this morning and her non-answers on Congressional action to tackle the problems with the nation's economy left Schieffer in a sour mood. As Pelosi suggested President Obama has done everything to save this economy and now the focus is on jobs, Schieffer wondered "the President has been there two and a half years, I mean, why hasn't he done that yet, what's happened?"
Pelosi tried to stress Obama's economic achievements:
"He pulled us from the brink of the financial crisis, from an economic crisis, and now we have to dig out of a deep debt, and we have to also make it clear that we're not getting into this situation again."
Yet Schieffer wasn't impressed, particularly with how little he saw from Congress, concluding "Congress has been in session since January and has done basically nothing." Pelosi responded, "well you can talk to Mr. Boehner about that." Schieffer didn't seem to like Pelosi's insistence on blaming Republicans without offering any ideas to get something done "now." Pelosi finally relented somewhat with her defense:
"We're not in the majority in the House. And so you're saying to me why haven't we brought something to the floor to create jobs? I think that's a better question asked to the Republicans because they control the agenda."
Pelosi seemed somewhat surprised by Schieffer's agitation, yet finger-pointing without any attempt at a compromise or suggesting a solution, admirably doesn't get far with Schieffer these days.
Watch the clip from CBS below:

Have a tip we should know? tips@mediaite.com