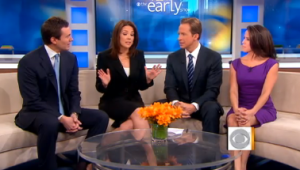 In case you missed it (perhaps your iPhone alarm left you snoozing), the new-look showroom fresh 2012 CBS Early Show launched this morning. And there was much rejoicing.
Chris Wragge and Erica Hill replace the departed Harry Smith and Maggie Rodriguez as co-anchors.

Jeff Glor becomes the cellar-dwelling CBS morning show's news anchor and Marysol Castro finishes the team as weather anchor. All four started Day One with tons of enthusiasm, and Hill even suggested that viewers make watching CBS every morning their New Year's resolution. (You mean, stick to it for a few weeks and then bail before February, just like the gym?)
Still, it all looked pretty much like the same CBS Early Show with new faces, though the folks who wrote up a story on the big day for CBSNews.com seem to have soiled themselves with excitement:
The anticipation was building, and so was the buzz.

Now, they're finally here: the new "The Early Show" anchor team!
Yay! Among the brand-spanking-new elements: an exclusive interview with Lindsay Lohan's father! And–diving into the local news stunt cliche pool–Castro shared video with viewers of her participation in the annual Coney Island Polar Bear Plunge! And again, the team at CBSNews.com has still not been able to stop LOLing over that one:
And Castro jumped right in — literally — to frigid ocean waters with the famous Polar Bears Club! She filed a piece on the experience. Wragge joked that when he pretended to scold her and said, "Go jump in the lake!," Castro took it too far!
Does the new team–the latest in a string of personality shuffling at CBS' morning show over the years–have a winning chemistry that might threaten NBC's TODAY or ABC's Good Morning America? It wouldn't be fair not to give the team a little time to get used to each other. Watch 'em and let us know what you think, from CBS:
Have a tip we should know? tips@mediaite.com