CBS' Garrett Confronts Obama: Biden, Hillary Would Be Seeking Your 'Third Term'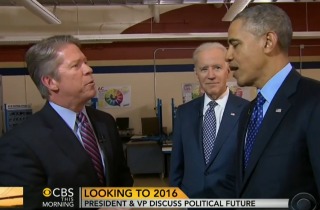 On Thursday, President Barack Obama and Vice President Joe Biden spoke with CBS News' White House Correspondent Major Garrett in an interview focused on the upcoming 2016 race and how President Barack Obama believes his successor should be chosen. Garrett confronted Obama about the fact that, if either Biden or former Secretary of State Hillary Clinton runs, the Democratic nominee will be running on a platform that is essentially a "third Obama term."

Garrett began by asking if Biden's ability to act on behalf of the administration was hindered by 2016 speculation. Biden replied that it was not, he had not made a decision either way about whether or not to run, and that the 2014 midterm elections were a more pressing political concern than 2016.
"He has been, as I said earlier, a great partner in everything that I do," Obama said of Biden. "I suspect that there may be other potential candidates for 2016 who have been great friends and allies."
RELATED: Joe Biden Nailed His Boston Marathon Memorial Speech, Except for This One Little Part
After specifically referencing Clinton, Obama said that the next Democratic presidentail nominee must maintain a focus on job creation, education, and the middle class. "I am very much interested in making sure some of the stuff we've got started continues," Obama said.
"It sounds like what you're describing is whoever the candidate would be running would be running for a third term of the Obama presidency," Garrett submitted.
"I don't want to necessarily jam them up," the president replied. "We all are part of this relay race."
CBS anchor Norah O'Donnell observed that both Obama and Clinton used the phrase "relay race" to describe the work of presidents.
"I really do think one of the big questions for Democrats will be, is the next nominee for the party running to extend everything that President Obama has done," Garrett replied. "And, if former Secretary of State Hillary Clinton runs or Joe Biden runs, it will be almost impossible not to run on essentially an extension of the Obama presidency."
Garrett noted that a more "centrist or progressive" element of the Democratic Party could also emerge and challenge either Biden or Clinton.
Watch the clip below via CBS:
[photo via screengrab ]
 — — 
>> Follow Noah Rothman (@NoahCRothman) on Twitter
Have a tip we should know? tips@mediaite.com