CBS' John Dickerson: 'Doesn't Matter if Website Is Working' if User Info 'Gets Messed Up' During Enrollment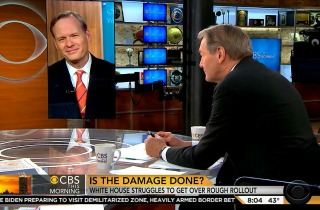 Over the weekend, the White House claimed that HealthCare.Gov was functioning at a level at which most users would be able to navigate the enrollment process successfully. While some dispute this or note that there are few ways to independently verify the White House's claim, most would concede that the federal insurance exchange portal is functioning better than it was when it launched on October 1.
However, as CBS News John Dickerson reported on Monday, one key aspect of the site is still not functioning: sending accurate information about enrollees to insurance providers.
CBS anchor Charlie Rose began the morning's report by reiterating the White House's claims that 90 percent of users on HealthCare.Gov will have no problems getting the site to work and up to 50,000 users at one time and 800,000 users per day can now access the website.
"If everything the White House says is true, and we have to take it on faith for the moment, then they've gotten through one stage," Dickerson said. He equated the federal insurance exchanges to Amazon's proposed drone delivery system. He said that HealthCare.Gov cannot yet deliver packages as it has promised.
RELATED: NPR Reporter Frustrated by WH's Transparency: 'Have to Take Their Word' on Obamacare Site Fixes
"The key thing to look for here is whether the information that's coming from the website, if it's working, gets to the insurance companies, it's accurate, and the insurance companies can use that information to send a packet out to somebody so they actually have insurance," Dickerson observed.
"I'm still a bit confused," anchor Norah O'Donnell interjected. "I know the website will work smoothly for the vast majority of users, but isn't it also true that the insurance companies say they're not getting the information from the website correctly?"
"Sometimes people feel that they've entered all the information and the insurance company has no record," she continued. "The back end isn't working yet."
"It doesn't matter, frankly, if the website is working if everything gets messed up from the period where you choose a plan to the insurance company gets the information," Dickerson agreed. He said that insurance companies continue to get "duplicate records" or "orphan records," which could result in many users appearing at the doctor's office after January 1 who are unaware that they are actually uninsured.
Watch the report below via CBS:
[Photo via screen grab ]
— —
> >Follow Noah Rothman (@NoahCRothman) on Twitter
Have a tip we should know? tips@mediaite.com