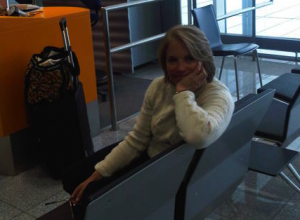 CBS anchor Katie Couric shared a photo with her Twitter followers overnight–a shot of Couric sitting in the airport in Munich, Germany and clearly wishing she had gotten to Egypt sooner. The networks went into scramble mode over the weekend, airlifting star anchors from New York to Cairo, but Couric was stuck on a shoot in Miami. As NBC's Brian Williams fronted Nightly News from overseas Monday, St. Pete Times TV critic Eric Deggans observed "Just saw paparazzi pics of CBS's Katie Couric chilling in Miami Sunday just before clicking to Brian Williams & Lester Holt in Cairo today."

Couric is expected to anchor from Egypt tonight.
Getting anchors from New York to the big international story–fast–was no easy undertaking, especially with flights cancelled and uncertainty everywhere. At CNN, AC 360 executive producer Charlie Moore had was given the task of getting Anderson Cooper into the air and on the ground–first. "Visas were secured at the 11th hour Friday and getting a flight has been shaky," Moore told Mediaite. "It's a very fluid situation on the ground so we have had to find many 'work arounds' to pull this off so far."
Cooper was in place to anchor extended CNN coverage Monday, leading a seven-team CNN contingent.
At ABC, Christiane Amanpour (who anchored This Week from Cairo Sunday) and David Muir lead the Egypt-based coverage.
At CNBC, Erin Burnett is in Egypt, and was there in time for a special weekend show, "Crisis in Egypt: Markets, Money & The Middle East" hosted by Tyler Mathisen and Melissa Francis. CNBC rushed to provide in-depth weekend coverage in time for the opening of Asia markets live during the special.
Have a tip we should know? tips@mediaite.com