CBS News' John Dickerson: 'Expect' Christie to Take His Own Advice to Obama and Apologize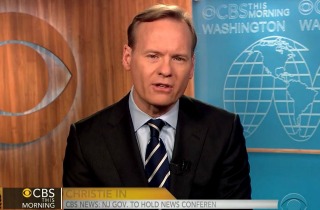 CBS News Political Director John Dickerson appeared on This Morning on Thursday to offer his thoughts on how New Jersey Gov. Chris Christie can mitigate the political damage the scandal involving lane closures on the George Washington Bridge could do to his personal brand. Dickerson recalled how Christie had advised President Barack Obama to apologize for the fumbled roll out of the Affordable Care Act whether he was involved or not. Dickerson advised Christie to take his own advice.

RELATED: Chris Christie Responds to 'Bridge-Gate' Allegations: 'I'm Outraged' to Learn 'I Was Misled'
Dickerson reported that Christie plans to hold a press conference later today to address outstanding issues relating to the bridge lane closures.
He added that Christie's office spent most of yesterday instigating the incident and determining if there was anything that could link the governor to his staffers who, texts and emails suggest, took delight in exacting revenge against the Democratic mayor of Fort Lee by closing portions of the bridge.
"Chris Christie has styled himself as a truth teller, a person who faces tough realities," Dickerson continued. "He's got to basically embrace that image, which means really sort of facing this head-on."
"And, even though he didn't know about it, nevertheless taking responsibility for it because that's—you know, when he's advised other politicians, including President Obama when he was talking about President Obama's health care plan, he said he should just go out and apologize and get in front of it," Dickerson continued "You would expect that from the governor himself today."
Watch the clip below via CBS:
[Photo via screengrab ]
— —
> >Follow Noah Rothman (@NoahCRothman) on Twitter
Have a tip we should know? tips@mediaite.com