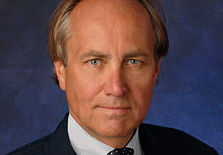 CBS News Washington bureau chief Chris Isham says a report that he was an FBI informant is "outrageous and untrue."
The original report naming Isham claimed as a journalist at ABC News he had cooperated with the FBI. Isham concedes he may have been the person being discussed, but he was no "informant." Isham worked as an investigative journalist at ABC, and he says he would contact the FBI in the course of stories to attempt to confirm facts. "At no time did I compromise a confidential source with the FBI or anyone else…The suggestion that I was an informant for the FBI is outrageous and untrue. Like every investigative reporter, my job for 25 years has been to check out information and tips from sources."

In a statement, CBS says it is reviewing the matter internally. "CBS News has strict standards regarding the handling of source material and we are discussing the facts of the allegations with Chris. The events in question are a matter between the FBI and ABC News."
According to the network, Isham has had a long and distinguished career in network news:
Isham had been the Chief of Investigative Projects for ABC News in New York, where he built an investigative unit recognized as one of the most successful of its kind in television news. Under his leadership, the ABC News Investigative Unit broke hundreds of exclusive reports on a wide range of topics from terrorism to political corruption. The unit built an investigative site called the "Blotter" on ABCNews.com. The "Blotter" broke the Mark Foley story, among many others.

Isham has been recognized with all of the major awards in the broadcast industry including numerous news Emmys, two Columbia DuPont Awards, a Peabody Award, four National Headliners Awards, two Overseas Press Club Awards, the ABA Gavel Award, the Joan Shorenstein Barone Award and three Edward R. Murrow Awards from the Radio Television News Directors Association (RTNDA) and an Investigative Editors and Reporters Award for online journalism.
Isham's full statement, released by CBS News:
"The suggestion that I was an informant for the FBI is outrageous and untrue. Like every investigative reporter, my job for 25 years has been to check out information and tips from sources. In the heat of the Oklahoma City bombing, it would not be unusual for me or any journalist to run information by a source within the FBI for confirmation or to notify authorities about a pending terrorist attack. This is consistent with the policies at every news organization. But at no time did I compromise a confidential source with the FBI or anyone else. Mr. Cannistraro was not a confidential source, but rather a colleague – a paid consultant to ABC News who had already spoken to the FBI about information he had received."

Chris Isham
Have a tip we should know? tips@mediaite.com