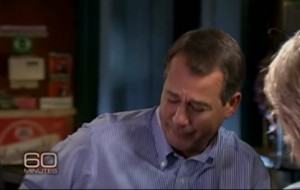 Newly-elected House Speaker John Boehner gave an extensive interview to CBS News' 60 Minutes, and the way they teased the thing in promos, I'm surprised they didn't do a mock-up of a Crying Game poster. In a 13 minute interview, was the crying the real takeaway? Sure, the guy has been known to squirt a few in the past (and been mercilessly mocked for it), but surely, there were more noteworthy things to focus on.
Having watched the interview, Boehner does cry with comical frequency, but in a special extended segment, Leslie Stahl predicts that America will love him for it. In at least one case, I'm inclined to agree with her.

During Stahl's 13 minute interview with Boehner, he tears up 3 or 4 times, once because he thinks of little children. He also admits to being a frequent crier, which makes a later moment in the interview that much more poignant. The Speaker-elect's wife, Deborah Boehner, tells Stahl how proud she is of him, and Boehner starts to lose it. Stahl looks quizzically at Deborah and says, "Does he do this all the time?"
Deborah says, "No, but he's going through an emotional time right now," and John Boehner kinda loses it. It's a really sweet moment, and whatever you think of Boehner's politics, who could blame him?
Here's the full interview, from CBS News:
In a web-only 60 Minutes: Overtime segment entitled "John Boehner: Real Men Do Cry," Stahl dwells on Boehner's waterworks some more, and says she thinks it will endear him to Americans. They also go over the history of political crying, from Ed Muskie to Hillary Clinton, even Barack Obama. While Stahl and company seem astonished by it, John Boehner deserves credit for rejecting a persistent gender stereotype, and being comfortable with who he is.
Have a tip we should know? tips@mediaite.com