CBS News Refutes CNN Report That Boston Bombing Suspect Is 'Dark-Skinned Male' With 'Brown Skin'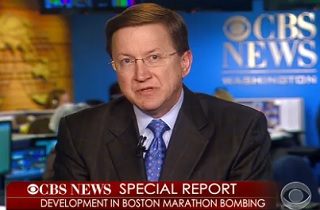 Before reporting an arrest in the Boston Marathon bombing, then walking back their report, CNN was already raising eyebrows with an odd initial report that the supposed suspect was a "dark-skinned individual," a description they continued to report once their sources told them there had been an arrest. Those who were upset by this reporting are not likely to be happy that CBS News now says that the suspect on the surveillance tapes from the bombing is a "white male," wearing "a grey hooded sweatshirt and a white or off-white baseball cap backwards."
Shortly after 1 pm, CNN's John King reported to Wolf Blitzer that his source, who would not confirm an arrest at that point, gave him a description of the alleged suspect on the surveillance video. King said he wanted to be "very careful because this is sensitive information," and told Wolf Blitzer that the suspect was a "dark-skinned individual."
He then said "I want to just stop there, adding that "further descriptives were given by this source, but it was a background conversation," which seemed to be reference to "sensitivity" in the secretive sense, but then he said " Given the sensitivity, you heard Governor Patrick saying yesterday, it's so important to the people of Massachusetts, and the country for that matter, in his words turn to each other and not against each other. It was described to me as a dark-skinned male individual shown in the video. There was some further descriptions used, but just for sensitivity purposes until we get more information, I think it's best to stop there."
If the idea was to be sensitive to possible racial divisions in the country, it seems like maybe King cut out the wrong part of the description, unless the part he left out was the n-word. The report drew criticism from liberals, angry at the limited value and prejudicial nature of the description, and conservatives who mocked the notion of sensitivity.
After CNN began to report that an arrest had been made, they continued to report the description of a suspect with "brown skin," while also, ironically, discussing the lessons learned from past mistakes in early reporting. Here are both clips, from CNN:
King's disclaimer really didn't make much sense, since if there was no suspect in custody, such a vague description wouldn't be of any help, and if there had been an arrest, it wouldn't have been necessary. Either way, it fit the longstanding media trope of the dark-skinned suspect, and the conservative complaint of an overly-PC news media.
About an hour later, though, CBS News reported that the not-in-custody suspect seen on the surveillance video was a "white man" who was seen "placing a backpack on the ground while talking on a cell phone," and "was wearing a black jacket, a grey hooded sweatshirt and a white or off-white baseball cap backwards. He is 6 feet or 6-feet-2-inches tall with a medium build.
As if CNN didn't already have enough problems with its black (and black-friendly) viewership, this revelation could be an even bigger headache for the network than its reporting on the nonexistent arrest. Shortly after the CBS report aired, Pittsburgh rapper Jasiri X made this observation via Twitter:
The day after PBS shows The Central Park Five, CNN falsely identifies a "dark skinned male" as a suspect
Oof! If I'm CNN, I'm hoping the guy at least turns out to have a decent spray tan.
Update: The National Association of Black Journalists released the following statement this afternoon:
WASHINGTON, D.C. (April 17, 2013) — The National Association of Black Journalists (NABJ) urges all news outlets to use extreme caution when reporting on the tragic events which occurred in Boston this week.

There have been various reports identifying a potential suspect as "a dark-skinned individual". This terminology is not only offensive, but also offers an incomplete picture of relevant facts about the potential person of interest's identity. When conveying information for the public good, and which can help law enforcement with the help of a vigilant public to keep the country safe, it's important that such facts be put into proper context.

NABJ in no way encourages censorship but does encourage news organizations to be responsible when reporting about race, to report on race only when relevant and a vital part of a story. Ultimately this helps to avoid mischaracterizations which might encourage potential bias or discrimination against a person or a group of people based on race or ethnicity.

As news organizations which seek to uphold the highest ethical standards it is important to exercise good judgment, to be cautious, to be mindful of bias, and sensitive to the perpetuation of stereotypes in the mass media.
Have a tip we should know? tips@mediaite.com