CBS News Reporter: SCOTUS Health Care Ruling Brought Out 'Tension And Bitterness' Between Justices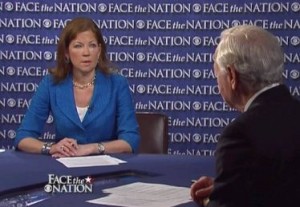 CBS News' Jan Crawford joined Bob Schieffer on Face the Nation this morning to give some more insight into the behind-the-scenes deliberations leading up to the Supreme Court's 5-4 decision upholding the Affordable Care Act. Crawford said the "discord" in the Supreme Court is "deep and personal," and Roberts joining the liberals brought out much "tension and bitterness" between the justices that may take some time to heal.
RELATED: John Roberts Switched His Position On Obamacare Before Final Ruling, CBS News Reports
Crawford explained that many conservatives feel like Chief Justice John Roberts betrayed them, and whereas his siding with the liberals would not have been such a big deal if that was his position all along, it was Roberts switching his position that has made conservatives angry at the chief justice. And whereas normally Anthony Kennedy would have been the reliable swing vote, Crawford explained on this particular issue of congressional power, he was firmly with the conservatives.
The conservative justices wrote an opinion that was initially drafted to be a majority opinion, according to Crawford. She said they were still optimistic Roberts would join them before the final ruling was announced. However, she noted that back during Roberts' first year on the bench, liberals felt similarly angry at Roberts because while he had initially given them the impression he would be moderate, he ended up being a reliable conservative… up until now, that is.
Schieffer asked Crawford if the health care ruling was an indication the Supreme Court would now be a liberal-leaning one. Crawford denied that as a possibility, citing this one decision of Roberts' as an anomaly. She added that no one is quite sure why Roberts did what he did this time.
Watch the video below, courtesy of CBS:
Have a tip we should know? tips@mediaite.com
Josh Feldman - Senior Editor