CBS Political Director Responds To Fox By Quoting Friend: Obama Should Inspire GOP 'Not To Be Whinier'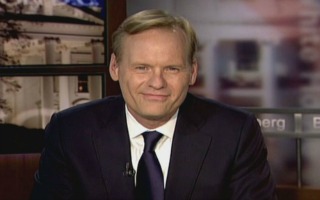 CBS News' political director John Dickerson came under fire from the hosts of Fox News Channel's Fox & Friends this week after he published a column in Slate magazine where he suggested President Barack Obama should "go for the throat" in negotiations with his Republican opponents. On Tuesday, Dickerson responded to his critics by, among other things, quoting a conservative friend who advised Republicans to be less sensitive to criticism. "Barack Obama should inspire us conservatives to be better, not to be whinier," Dickerson quoted his friend as saying.

RELATED: Fox & Friends Goes After CBS Political Director For Column Asserting Obama Should 'Pulverize' GOP
"They hate me, they really hate me," read the headline in Dickerson's response to conservatives. He said that his political analysis, which consisted of advising Obama to "pulverize" Congressional Republicans, was based on empirically observed realities.
"[T]he president is ambitious, has picked politically controversial goals, has little time to operate before he is dubbed a lame-duck president, and has written off working with Republicans," Dickerson wrote. He also said that New York Times reporter Jodi Kantor penned a similar analysis and advised Obama to become "bloodier-minded when it comes to beating Republicans."
"This is the only plausible path for a bold, game-changing second term for a president who has positioned himself the way President Obama has," Dickerson added. "Indeed, the piece accurately anticipated the forceful line the president ultimately took in his inaugural address with his call for collective action and failure to reach out to Republicans."
He closes by quoting a conservative friend at length who advised the GOP to take a more lighthearted approach to responding to critics.
Barack Obama is the best thing ever for those who believe in conservative principles because it would show that with hard work, regardless of race, anyone can achieve, and it would give Republicans a few years in the wilderness to get back to a coherent philosophy. Now I believe that Obama will help conservatives because he will make them better. He has totally figured out how to use technology to deliver mass customized messages to individual voters and now citizens. Ultimately, this is a great boon to democracy. He is smart and articulate. He is tough and ruthless. All of this will make conservatives and Republicans raise their game. Ultimately, that is good. … I look forward to a Republican Party that is a worthy adversary and a worthy advocate. Barack Obama should inspire us conservatives to be better, not to be whinier.
Here is what Fox News Channel host Steve Doocy and Townhall columnist Katie Pavlich had to say about Dickerson on Tuesday morning:
> >Follow Noah Rothman (@NoahCRothman) on Twitter
Have a tip we should know? tips@mediaite.com