CBS Reporter Confronts Jay Carney: Obama 'Made A Mistake, And You Can't Admit It'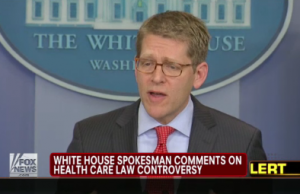 White House Press Secretary Jay Carney has been scrambling to defend President Obama's remarks about the Supreme Court both on TV and through press briefings — to no avail. Carney has been visibly frustrated, but so have those who've been asking the questions. During Thursday's press briefing, CBS reporter Bill Plante voiced that frustration, telling Carney, "You're standing up there twisting yourself in knots because he made a mistake, and you can't admit it."
RELATED: Jay Carney And CBS' Norah O'Donnell Fight Over Potential ObamaCare SCOTUS Ruling
Carney was again trying to explain the remarks and the president's view of the judicial branch, largely reverting to the talking points he's been reiterating for days now. In particular, Carney has been denying that Obama misspoke when he used the term "unprecedented." Following a question from Fox News' Ed Henry, Plante addressed Carney rather bluntly:
"What he said on Monday was an obvious misspoken moment, because he talked about the court not being in the position to overturn acts of Congress. You're standing up there twisting yourself in knots because he made a mistake, and you can't admit it."
"No no no, Bill, I am acknowledging," Carney started, defensively, "you're sharing in the righteous indignation here of your colleague."
"I'm just noting that you're putting yourself in knots," Plante replied.
Carney continued:
"The president spoke in answer to a question relatively briefly and in the context of this case made the statement that there is longstanding judicial precedent which would argue that court should not overturn this law. I totally grant to you that he did not refer to the Commerce Clause, he did not refer to the full context. I think he believed that that was understood."
Referring to Henry, he added, "Clearly, some folks, notably people sitting in that chair and others, missed that."
It's fair to say Carney's (and the president's) critics remain unconvinced.
Take a look,

(H/T The Blaze)
Have a tip we should know? tips@mediaite.com