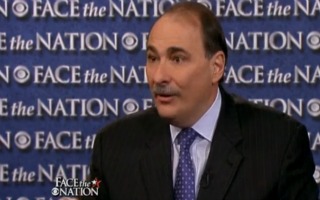 David Axelrod, senior advisor to President Barack Obama's reelection campaign, appeared on CBS' Face the Nation where he was grilled over his assertion that Republican presidential nominee Mitt Romney won the first debate because he was dishonest. Axelrod faced some skepticism from CBS' reporters as he defended the Obama campaign's assessment that Romney was being untruthful during the debate.

Norah O'Donnell asked Axelrod why the president was not making the charge that Romney was being dishonest during the debate, instead sending his surrogates out to level that charge after the debate.
"I'll be honest with you. I think he was a little taken aback at the brazenness with which Gov. Romney walked away from so many of the positions on which he's run – walked away from his record," said Axelrod. "As President Clinton would say, it takes a certain brass to do what Gov. Romney did there."
Asked if Obama simply did not do his homework before the debate, Axelrod said that Obama did study for the debate, but he was up against a performance artist who rendered moot any firsthand knowledge of the facts. "Homework entails internalizing facts. Gov. Romney was about the business of distorting them," Axelrod replied.
CBS political director John Dickerson asked if it was fair to say that Romney was being untruthful when it could just as easily be said that Romney was making promises. Axelrod proceeded to lay out several examples of Romney's policy proposals that were misrepresentations of realistic outcomes rather than, in his opinion, simply omissions of key facts.
"When Sen. Obama in 2008 said 'I'm going to cut the deficit in half,' and 'I'm going to close GITMO,' a lot of people said that was unrealistic, but they didn't say he wasn't telling the truth," said Dickerson. "There's a difference, isn't there?"
"The difference is that closing GITMO was – involved an act of Congress and he wasn't able to get Congress to agree with him on that question," said Axelrod. "This is about math."
"This is a shell game, John," Axelrod concluded. "It's a shell game in which whatever shell you pick up, the middle class will lose."
Watch the segment below via CBS:
> >Follow Noah Rothman (@Noah_C_Rothman) on Twitter
Have a tip we should know? tips@mediaite.com