CBS Takes Heat for Interviewing Man Who Attended AA Meetings with Robin Williams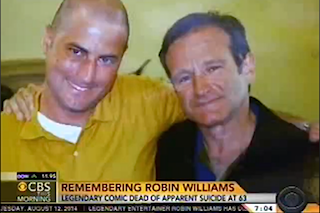 During CBS This Morning's coverage of Robin Williams' suicide Tuesday, the network aired a short interview with a San Francisco news photographer who said he attended Alcoholics Anonymous meetings with the actor just weeks before his death. After numerous complaints from viewers, the local CBS station where the report originated has edited the online article to remove all mentions of the AA program, which, as its name suggests, prohibits attendees from revealing names of fellow addicts.
Dean Kendrick, who works for CBS affiliate KPIX-5 in San Francisco, appeared on screen during the morning show package, saying of Williams, "He was one of the very first to raise his hand and open himself to vulnerability but he really, really needed support at the time." As he spoke, what appears to be a private photo of Kendrick posing with Williams appeared on the screen.
In a more extensive piece that appeared on the CBS San Francisco website, reporter Sharon Chin quotes Kendrick describing Williams' as "slow in his movements," adding that his "demeanor was also very low."
"He was wanting to help people, but he himself needed more help than he could give," Kendrick said of the now-deceased actor.
CBS, as well as the local station, received some angry Twitter messages from viewers who saw something incongruous and unseemly about Williams' behavior at Alcoholic Anonymous meetings being shared so freely:
Distressing to see an AA member tell CBS about what Williams was like in meetings. That anonymity is vital & should be cherished.

— Mark Perigard (@MarkPerigard) August 12, 2014
@CBS @CBSSF You should be ashamed posting this article…it's called Alcoholics ANONYMOUS for a reason. http://t.co/rpR3LZkHvP

— Vik Lakhwara (@vlakhwara) August 12, 2014
According to commenters on the local page, CBS San Francisco edited the original title of the article to remove mention of Alcoholics Anonymous. The URL reveals that it once read, "Weeks Before Passing, Robin Williams Talks About Addiction in North Bay AA Meeting."
Writing under the screen name In recovery for 18+ years, one reader responded:
Having a hard time letting this one go.
"Kendrick said after seeing Williams, he gave the actor his phone number for support. He only wishes he could have done more."

It is too late for RW, but the more you could have done was not talked about what happens or was said or seen in a meeting for all the people struggling who consider walking in the door and now know, at least when you're around, who you see there, what was said there doesn't stay there. It is not being dramatic to suggest that you have created a ripple effect which could cost lives.
Maybe the more is next time, keep you mouth closed.
Think about that one next time you are doing an Eighth and Ninth Step.
Watch video below, via CBS:
[h/t Matthew Keys]
[Photo via screengrab]
— —
>> Follow Matt Wilstein (@TheMattWilstein) on Twitter
Have a tip we should know? tips@mediaite.com