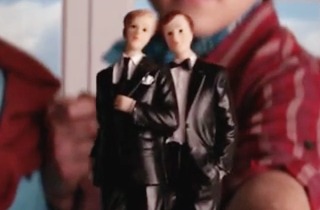 Most TV shows dealing with legal and political issues often have that "ripped from the headlines" feel, but CBS' hit show The Good Wife struck gold last night with perhaps the most perfect timing of real-life news and fictional events. One of the major plot points was lawyer Diane Lockhart (played by Christine Baranski) facing off against a group of conservative Republicans over religious freedom laws and whether Christian business owners can refuse certain services to gay people because of what they believe in.
Does that sound familiar?
The episode was filmed months ago, but couldn't have been more relevant, following the past week of news about religious freedom legislation in Indiana and Arkansas. The Indiana law triggered a national outcry, and both Indiana and Arkansas passed fixes just days ago to address concerns about discrimination.
On The Good Wife, Lockhart sits in with the aforementioned group of conservatives, who want to see if they should put their financial backing behind a Christian baker who's being sued by a gay couple for refusing them services. She grills the baker, and the conversations the characters have show striking parallels to the national conversation over the issue in the past week.
Co-creators Robert and Michelle King talked about the amazing timing of the episode in an interview with Entertainment Weekly:
ROBERT KING: I think it's a combination of having a really good writers' room. We have seven writers, and what they do all day is argue these issues. We're part of the writers' room too. But we're all looking at the issues that we think are on the cusp of being subjects of debate at the family dinner table when the family gets together for Easter or Passover. What are they going to argue about?
Watch a clip of the characters arguing the matter here, via CBS:
And if you want to see the entire episode and how the religious freedom argument unfolded, you can watch it free here, also via CBS.
[Image via CBS/screengrab]
— —
Follow Josh Feldman on Twitter: @feldmaniac
Have a tip we should know? tips@mediaite.com
Josh Feldman - Senior Editor