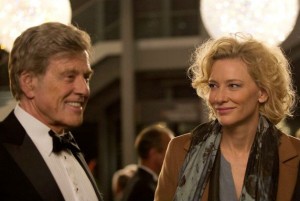 Despite being one of the primary subjects of the new film Truth, CBS has refused to air any advertisements promoting the film due to its being critical of the network.
The film, which stars Robert Redford and Cate Blanchett, recounts the events surrounding the infamous 60 Minutes story about then-President George W. Bush's military record. Its portrayal of former CBS Evening News anchor Dan Rather (Redford) and producer Mary Mapes (Blanchett) are generally considered favorable. However, the film's depiction of the network and the independent panel that determined the Bush story's invalidity are not.
According to ABC News, Sony Pictures Classics wanted to purchase million-dollar advertising slots during the Late Show, the CBS Evening News, CBS This Morning and 60 Minutes. Despite the price tag, however, the network said no.
"It's astounding how little truth there is in Truth," said CBS Corp. spokesperson and film character Gil Schwartz in a statement. "There are, in fact, too many distortions, evasions and baseless conspiracy theories to enumerate them all. The film tries to turn gross errors of journalism and judgment into acts of heroism and martyrdom."
"That's a disservice not just to the public but to journalists across the world who go out every day and do everything within their power, sometimes at great risk to themselves, to get the story right," he explained.
Truth producer Brad Fischer said nobody on the production "expected them to send flowers," but the outright ban was surprising.
"To get an official statement from them that is negative was not surprising to anyone involved in the film," said Fischer. "I think the one thing that surprised everyone was the tone and the emotional nature."
Despite the network's evident distaste for Truth, Late Show host Stephen Colbert hosted Blanchett last Friday and asked her about the film.
Check out the trailer above, via Sony Pictures Classics.
[h/t ABC News]
[Image via screengrab]
— —
>> Follow Andrew Husband (@AndrewHusband) on Twitter
Have a tip we should know? tips@mediaite.com