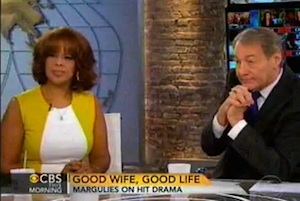 After spiking The Early Show and starting from scratch in favor of a newsier format (or, in their own words, "a more substantive alternative"), CBS This Morning debuted with much of the same content that most likely would've been featured on the old show.
Report: Charlie Rose And Gayle King Set To Join CBS' Early Show
The new ensemble cast of Charlie Rose, Gayle King, and Erica Hill performed ably together, but the tagline "the news is back in morning news" felt a little insincere, as lengthy segments were done on Princess Kate Middleton's 30th birthday and Beyonce's baby. It was surreal, for instance, to hear Rose refer to the pop star and Jay-Z as "American Royalty."
To his credit, earlier in the program, the anchor had a stellar interview with Newt Gingrich, in which the Republican candidate flattered the morning host by saying he was running "almost a Charlie Rose-style campaign."
However, as the show wore on, viewers began to notice his eyes were beginning to look a little irritated. "Someone hand Charlie Rose some Visine!" one Twitter critic chirped.
Rose's serious, workman-like newsreading and King's bubbly persona made for an odd pairing, with one person in the Twitter peanut gallery comparing their combination to Elton John and Eminem.
When the three gave a round-table interview of The Good Wife's Julianna Margulies, it offered a foreboding window into the future. Will Rose be able to mesh with King's more pop-culturally savvy stylings, and will Hill be boxed out?
With their first show in the history books, I'm not quite sure how the three anchors will ultimately pull it off; they obviously have the talent, but whether that will be enough for successful morning news chemistry is another question.
Watch the three interview Julianna Margulies below via CBS:

Have a tip we should know? [email protected]