Celeb Dermatologist Found Dead; Was Allegedly Upset over Martin Short Impersonation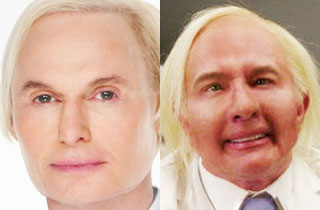 Celebrity dermatologist Dr. Frederic Brandt was found dead in his Miami home yesterday, Page Six reports. Notable for his star-studded clientele and their bizarrely ageless looks (Madonna was a prominent client), Brandt was famous for testing new treatments on his own face. As the New York Times once described it:
The result is a mask of serene immobility, a face with a creaseless brow, a square firm jawline, lips feminine in their puffy fullness. His skin is impressively smooth and so pale as to lend him a lunar aspect. Strangers often inquire, Dr. Brandt said, whether he is from Sweden.

"Actually," he replies, "I'm a Jewish kid from Newark."
He may have also been the inspiration for a Martin Short character on Tina Fey's new show The Ubreakable Kimmy Schmidt: a plastic surgeon named Dr. Franff who resizes rich womens' toenails and promises to reduce the main character's "distinct scream lines":
According to Miami Herald entertainment columnist Lesley Abravanel, sources told her that Brandt had been "devastated" by Short's character and was suffering from depression. (A publicist confirmed to Abravanel that Brandt had been suffering from an illness.)
Is there a similarity, you think?
Plastic surgeon who inspired 'Unbreakable Kimmy Schmidt' character found dead: http://t.co/E78ykGflgG #KimmySchmidt pic.twitter.com/QuhJ9FWVU7

— Decider (@decider) April 6, 2015
UPDATE (April 7, 2015): Brandt's publicist today told The Miami Herald that Brandt's death was indeed a suicide, and that he had suffered from depression.
"He did not commit suicide because of the show," Jacquie Tractenberg said. "The show didn't help. It was mean. He felt bullied. It was mean-spirited picking at the way he looked for no reason at all. But he suffered from depression before that."
[h/t Gawker]
[Image via Dr. Frederic Brandt/Netflix]
—
>> Follow Tina Nguyen (@Tina_Nguyen) on Twitter
Have a tip we should know? tips@mediaite.com