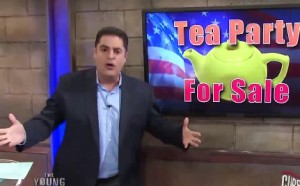 In an election that has seen a parade of their preferred nominees go down in screaming flames, the Tea Party has seen its relevance dwindle since their tri-cornered heyday. However, they can still manage to get Cenk Uygur worked up. On Tuesday night's The Young Turks, Cenk bemoaned the rapidity with which they were "co-opted" by banks, and went off on Rep. Joe Walsh (R-IL), calling him a "Tea Party whore."
Cenk's rant was pegged to a ThinkProgress report about freshmen Tea Party congressmen, and the relationship between campaign contributions and their voting records on financial industry issues:
Rather than campaigning on a typical pro-business platform, the Tea Party freshmen tapped into public resentment of big banks and bailouts. For example, then-candidate Sandy Adams (R-FL) said on her campaign website that she "opposes government bailouts" and "would have voted against TARP and the auto bailout." Jeff Landry (R-LA) said bailouts of private businesses had "corrupted our free market system by rewarding the irresponsible and penalizing the responsible," blasting "bank bailouts, which led to taxpayer money directly or indirectly going into multi-million dollar bonuses."

But in Congress, the Tea Party has toed the line for big banks. Eleven of the 15 have become co-sponsors of H.R. 3461, a top priority for the ABA. According to Americans for Financial Reform, the legislation would "tilt the playing field further in the direction of excessive deference to industry interests and tie the hands of regulators attempting to protect the public interest." The bill would make it harder for bank examiners to do their job, giving regulatory responsibilities to an industry that's already shown it can't police itself.
In the clip, Cenk goes through a ThinkProgress list of 2012 contributions to these 15 freshmen from financial services industry PACs that shows average contributions of around $40k, including a league-leading $156k for Rep. Steven Fincher, and a bronze for Walsh's $70k. In a world of billion-dollar presidential campaigns, this might not sound like a lot of money, but these are congressional races.
It's Walsh whom Cenk keys in on, playing a brief bit from a November viral video in which the Illinois Congressman berates constituents, saying it "pisses (him) off" when people blame the banks.
"You see how he got in her face?" Cenk said. "That's a constituent that put him in office! And he gets in her face: 'How dare you ever say anything about the banks! Don't you know I'm a tea party whore and my job is to protect those guys?' You sicken me the way you sold out your cause entirely."
For what it's worth, I think Cenk is giving Walsh, and the Tea Party, too much credit, and too much blame. Walsh isn't "pissed off" because he's in the banks' pocket, he's pissed off because he's stupid, and actually thinks that banks, and any other business, should be left alone to do as they please.
At the same time, the Tea Party, with whom Cenk has long sough to find common cause, was always a fraud, hoodwinking its membership into believing they were warriors for freedom, when they were always nothing more than a means to oppose Barack Obama. If you ask individual Tea Party members how they felt about George W. Bush's spending and bailouts, they'll tell you it made them really, really mad, but where the hell were they all those years? Baking scones?
Here's the clip, from Current TV:
Have a tip we should know? tips@mediaite.com