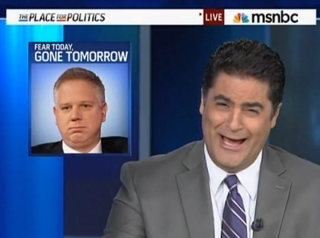 For many for whom Glenn Beck was a program dedicated to misinformation and paranoia, today was a particularly good day. MSNBC's Cenk Uygur couldn't contain his glee at Glenn Beck wrapping up his final show today, dedicating to the former Fox News host a montage of controversial clips that "almost makes me tear up," and discussing with guest Eric Boehlert how Media Matters explains their advertising boycott led to the end of the program.
For Uygur, Beck's departure was a symbol of optimism for progressives everywhere. "We hope it brings an end to a crazy era," he said, and cringed in faux-sadness. "It almost makes me tear up." Uygur also argued that Beck's departure was due to ratings, and that the ratings decline brought him "a sense of hope that maybe people aren't that crazy." He compared Beck's rise and fall to the ephemeral presidential aspirations of Donald Trump, who "came and went" without much damage."
After airing a montage featuring the comments he deemed most offensive from Beck's tenure, Uygur invited Boehlert on, who himself was beaming about the news. Boehlert left no room for doubt that Beck's departure was entirely the result of Media Matters' boycott– "the most successful advertising boycott in the history of television." The boycott, Boehlert explained, resulted in a decline in "his ratings and his relevance," and attacks on Media Matters were not just on the organization, but on "the whole progressive community." "He was very thin skin, and he knows what drove him off air," Boehlert concludes.
The segment via MSNBC below:

Have a tip we should know? tips@mediaite.com